*if you're new here, i'm doing a series on cutting out sugar and how it was a heart issue for me.
here is part 1
of the series that explains what the heart is behind all this and what my symptoms of crappiness were.
here is the second part:
8 steps to steps to stop feeling like crap
-----------
if you're ever needing a little pick me up and motivation to continue on the #imoversugar quest, i would highly suggest watching
Fat ,Sick &Nearly Dead
. it's on netflix if you have this magic. we just got net flix last month and i'm pretty sure the Lord was like,
oh hey, this is isn't a coincidence that you have 15 food documentaries at your disposal and i'm asking you to cut out sugar. now..watch some documentaries about health just so you know what you're doing to your body.
ELLL OHH ELLL, God.
awkward silence.
fine. i'm going to watch them all and cry at the crazy stories of lives devastated by bad food. stupid food!
and what i loved from this documentary was the general knowledge i gained about macro and micro nutrients. you can watch a little snippet here that is super helpful. they were saying that you can these magical micro nutrients best through juicing, as it's almost impossible to get mass amounts through actually eating the fruits and veggies. you'd have to eat all day long and most of us don't want to nor can we. i mean, there are lots of things that you'll feel like you should and shouldn't do...but we can't do them all. remember to keep it simple. for these next 6 weeks, focus on sugar out and nutrients in. juicing is a great way to do that, but not the only way.
and so that leads me to this!!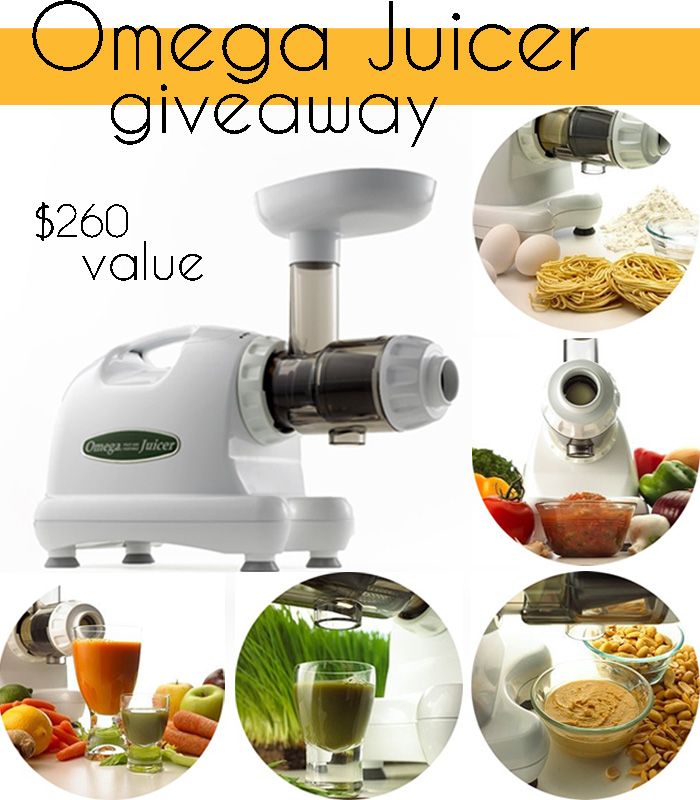 I'm so excited to give to start the week off with a fun giveaway for you all! I've collaborated with a group of fabulous bloggers to bless you all with an
Omega J8004 Nutrition Center Juicer
!
Not into juicing you say? What about making fresh salsa, homemade pasta or your own peanut butter? The possibilities are endless with this little gem and can't imagine a more perfect prize as we walk through this change of eating habits together.
mandatory entry: leave a comment below letting us know a meal or dish you prepared that didn't turned out as planned.
(basically a recipe you butchered or one that left you disappointed)

for EASY additional entries: use the rafflecopter below!
(additional entries are a great way to increase your chances of winning this awesome prize)




a Rafflecopter giveaway