first off. you guys win. for being the most encouraging blog readers ever. your words were a comfort to me and a blessing. so thank you. really.
second: winner of the groupdealz necklace is numero 36! EB. so if that's you, email me, player.
moving on to the magic!
three posts in three days? i mean, that has got to be some kind of a record.
for a hermit. i have come out of hermitude to bring you post after post after post. this will be my last one this week because who posts this much?
anyway, everyone loves a good makeover. so let's get on with it.
so i fell in love with this
marakkesh stencil
at
royal design studio
. because i am obsessed with all things moroccan at this point in time. it is a classic print that has been around for centuries. i think. i mean, i didn't google that or anything. so i hope it will never ever go out of style because my hand still hurts from painting.
i went for paint because when i was looking around at different wallpapers, i just couldn't get over the price...it's pretty insane. plus you have to know how to match up the pattern and buy the glue and the other tools and it felt pretty overwhelming to me. even though i would have made my mother do it for me. she was basically a famous 80's wallpaper hanger and should be embarrassed for the heinous situations she put on people's walls. including ducks. really? ducks? pink ducks? WITH BONNETS. it's not ok.
so after pondering wallpaper, stencils won my heart over immediately. they are much more inexpensive and easier to work with. if you can push through the tediousness in exchange for gloriousness. and i think you can.
this is what the room looked like when i started. i heart grey. but we painted the ceiling grey as well and that's a lot of one color. i wanted to break it up with something fun.
now, don't get me wrong, this is a tedious activity. it's not particularly complicated, just tedious. but once you get going you will get the hang of it quickly. you will feel like you're going insane also. but you're not. you've just been staring at the same wall for a couple days.
now, make sure to buy the spray adhesive and apply it to the back of the stencil every once in a while. this will help you IMMENSELY. i used tape too. but it was unnecessary.
and everyone says this, but i'll say it again...don't get too much paint on your roller. you really need to roll it off on something before it goes on the wall.
some people like to use drop cloths but I'm not that classy. i like to let the paint spill into the cracks of my hardwoods so i can always remember the paint-fest.
ok and you should know that i did go a little rogue on the stencil. but i needed to cut it up for some nooks and crannies that were hard to get into with the whole stencil. i think that might be illegal in the stencil world, but i didn't plan on using the stencil again and after all the paint build up on it anyway, i didn't think it would be all that usable again. i'm not sure how you would clean the paint build up off or if that's recommended but i didn't clean mine. stencil rebel for life!
yes, stencils were sticking to every part of me by the time i was done.
that's the overall pattern. i was surprised at how perfect i DIDN'T have to be with the pattern. you can see where it didn't match up completely perfectly, but i have old walls in an old house. don't judge me. from a distance, you can't tell that it was a little imperfect.
and drum rolllllll, here is the after. yes we put a couch at the table. don't ask. sometimes i nap there and eat chips at the same time. it's great. like i'm a goddess of stencils and couches. or something.
i hung a curtain and took off the ugly blinds that were supposed to be temporary but ended up staying for, oh....3 years. and the other window will have panels but i need someone to get me them at IKEA because we don't have one here. and can i just say, let's all paint the ceilings. you're light fixture will pop and it brings an extra layer of depth into the room.
so i did one "feature" wall and it took me a good three days of working on it. it was therapeutic actually. considering i was
working through a lot in my brain
. and if i didn't have kids and events and instagram breaks, then it would have been faster. but what can you do. i mean, you need to know what other people are doing with their lives, like every hour. duh.
i do love the look of this and think it was worth all the tedious-ness. definitely would recommend this to others and already have.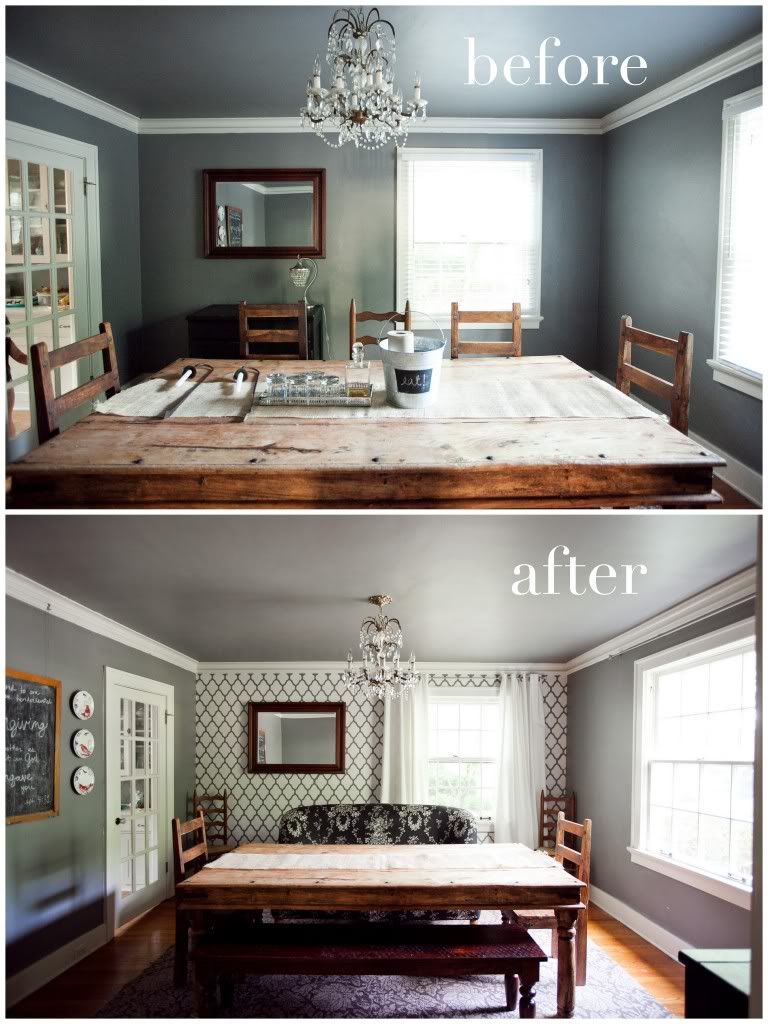 sorry about the color difference. i took the pictures at different times of the day.
hope you guys feel inspired to do something a little different in your home.
are you feeling so inspired? royal design studio wants to give one of these magic stencils away and i will post the giveaway
next week on this very blog.
so check back then, players.
(
royal deign studio
gave me the stencil for a review, but these opinions are for reals mine)