so easter happened the other week.
we decided to go nautical this year. i try not to be nerdy about easter outfits, but i can't stop. it's like my dog and baby voice. if there is a dog or baby around my voice morphs into this high pitched, slightly drunken, old lady. all that to say, i grew up doing easter outfits and i continue to do them, despite the nerdy factor being extremely high.
luckily, i'm obsessed with navy and stripes so we had everything in our closets. budget friendly nerdiness is all the rage in europe.
now easter is a funny holiday for us. it's funny all around. and by funny, i mean, weird, hilarious, dysfunctional, enjoyable, and strange.
we went to church that morning. we were greeters and the church got too full. which is awesome. but we had no seats, so us and 50 other people sat in the lobby and listened to the sermon on loud speakers. not loud enough for me...too many distractions. i couldn't hear it. i talked to friends. penelope came out of the nursery so i held her and tried to keep her from fussing.
so easter with no easter sermon felt strange to me.
and then we were off to my family's house.
first of all, my whole family wasn't in attendance. there were many different reasons. but that feels weird. like you do a puzzle everyday and there's always a couple of pieces missing. and you know where the missing pieces are, but you can't have them. because those pieces are super glued to your ceiling. and all you can do is stare at them sometimes and wonder how they will ever get off the ceiling.
or facing the fact that they may always be on the ceiling. out of reach.
if you think i'm talking in code, i am. stories of dysfunction in families are a time old tale. our dysfunction is different than your crazy family, probably. but then the same in a lot of ways. it's kind of like when i talk about hardship in our marriage to people. and they can't relate exactly. but they can relate with deep pain at some point in their life. pain is pain. life is full of roads we didn't know we could walk. and those experiences glue us all together. (or something deep like that)
so i won't go into those stories now. some of the stories are not mine to tell anyway. but you get my point. half of my siblings were there and half were not.
easter felt weird.
there was a hodge podge of people in attendance. we invited some of our friends even...last minute. some family. a sprinkle of neighbors.
easter included an egg hunt for the kids, of course. lila stopped after one egg to eat all the candy. then moved to the next. ate the candy. then found another.... etc. i can admire her methodical egg hunting, i guess.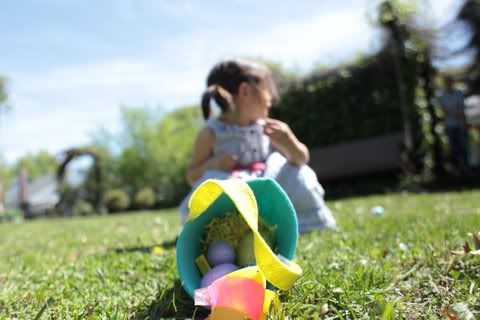 layne got so excited about finding all the eggs that he wouldn't stop hunting and just peed on himself. he then hid in the bathroom for the duration of the hunt.
now there was also an "adult easter egg hunt" which definitely sounds racy, but just meant that dad hid money eggs and adults pretend they don't care about finding the money eggs, but really they do. because they are scrounging in the leaves and the dirt and the grills to find $50. we all care about finding $50 in a golden egg. every person poor or rich in the world would love to find $50. that is also a connecting point of all humans, i say to you.
after truly an hour, dad gave hints and the eggs were found. not by me... no. i wanted it too bad. the Lord shall not shine his face upon my easter greed. lesson learned. the big money egg was found by my brother who surely spent it on libations that very night. but whatever.
nato found a $10 consolation egg, which is kind of like when someone wins a porche and you win $10 gas card for your beater. but this is neither here nor there. date night at chic-fil-a!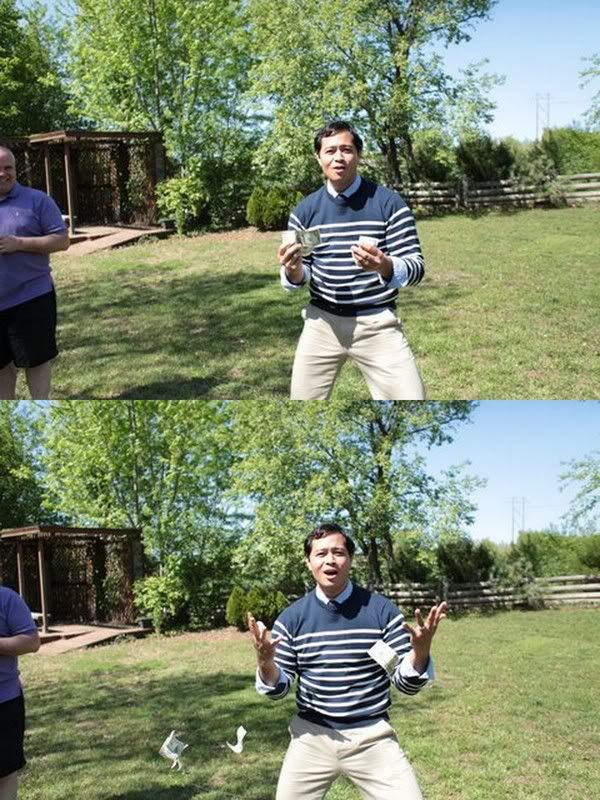 then in the spirit of easter, our friend jeff tries to steal the money and nato wrestles him.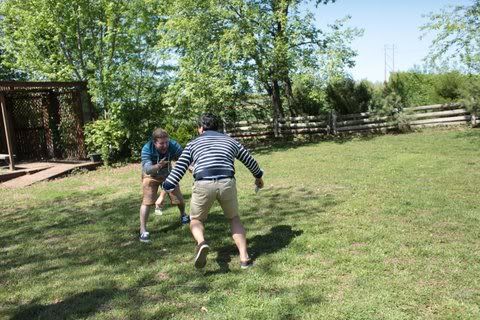 anyway, we had mexican food at easter. that was strange and enjoyable at the same time. who doesn't like a perfectly seasoned fajita anytime of year anyway? and as the sun started going down, mom broke out the vitamix and made some whole fruit margaritas that will surely be at the wet bar in heaven. we sat in the perfect weather on the deck and laughed and told stories(some made up and some real). we remembered
Heidi Naggs
. and ate plastic cheese, also called queso. along with various chocolates that laying about in the grass.
it was relaxing and fun and random. and good.
of course, lila in her cozy coupe drove on top of the pool cover to shake up the relaxation of it all. this is a very strong pool cover...don't get all nervous. so while others fussed about how to get her off the tarp, i took pictures with my phone and instagrammed them. like a good mother would.
safety first!
i always say.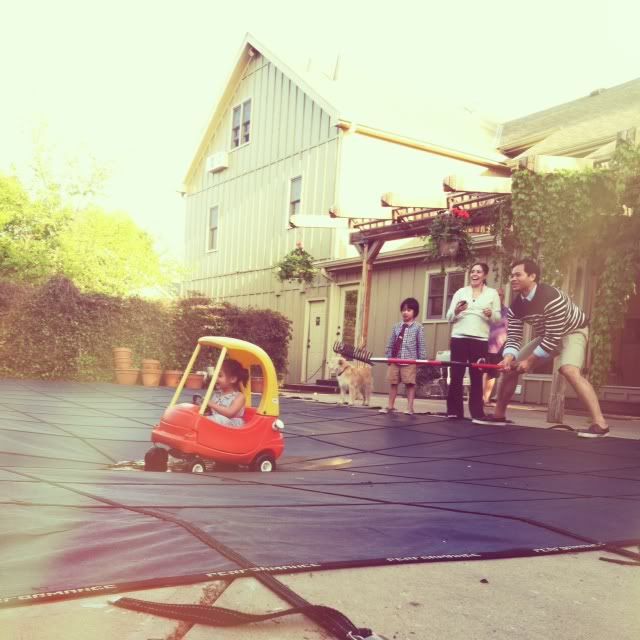 (instagram pics)
we all laughed really hard.
we jumped on the trampoline and i showed off my one trick on the trampoline. an arial flip. you can see how my legs detached from my body and also how it was that i became sore the next day.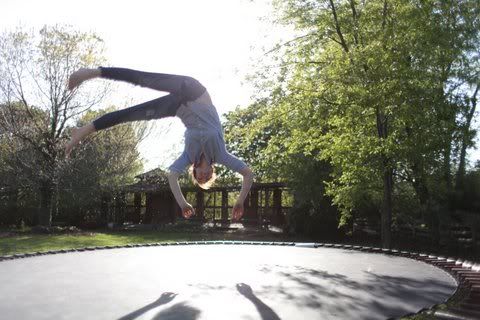 not pictured: me peeing on myself. 3 kids later and bouncing is not my jam.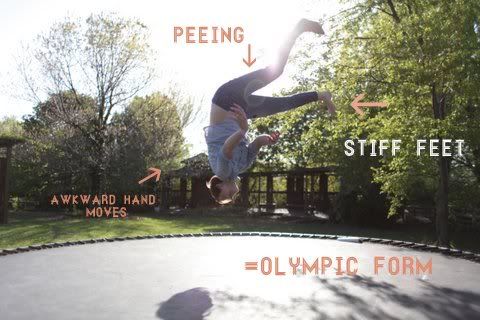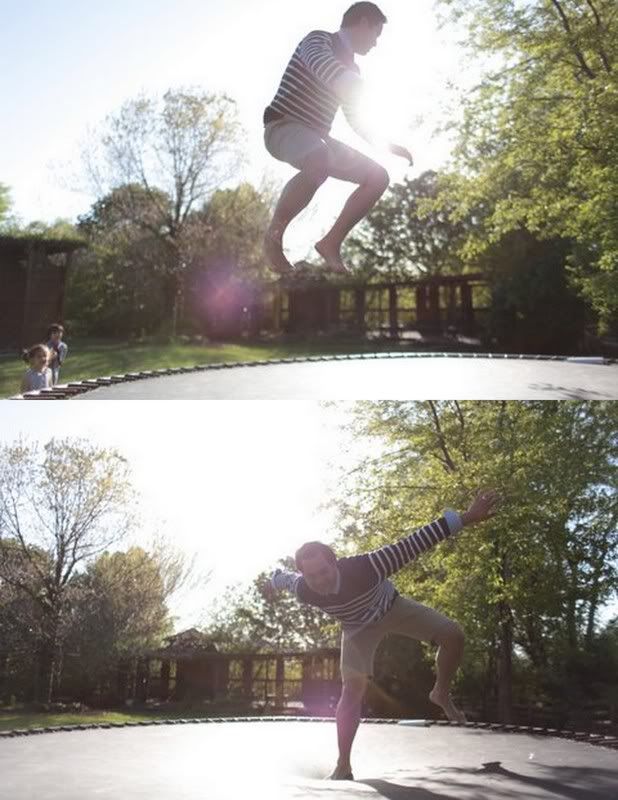 here's nato doing no tricks at all. you can always tell when a kid didn't grow up with 2 trampolines side by side while siblings were jumping off fences and swing sets to get a bigger bounce. sometimes breaking their arms in the process.
people like nato get on the trampoline, just jump around and have no visual stimulation to offer others. jeers from the crowd happen at that point...then they are forced off the trampoline in shame.
lila can at least jump in heels. layne can at least do some cool rolls. c'mon nato...
(instagram pic)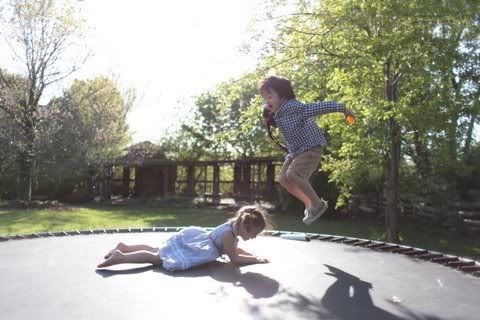 all that to say, easter didn't look anything like i thought it would. i didn't imagine serving and sitting in the lobby at church. i didn't imagine having a weird mix of people at easter. i didn't imagine lila getting on the pool tarp or layne peeing his pants. or me peeing in my pants on the trampoline either.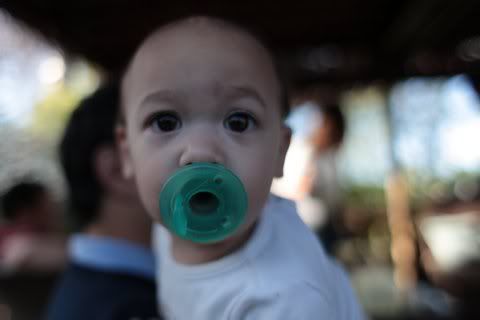 (here's proof that Penelope didn't nap the entire time)
it wasn't what i expected but it was still really great. i find myself laughing at my expectations of how life should look. how i'm entitled for everything to be as i planned it out. how things should be just so.
instead of enjoying the situation for what it is. and enjoying easter for what it means. and living in the moment. not living in what i thought the moment should look like.
finding joy in the randomness of a cluttered and strange situation was good for me this year. it felt like a tangible reminder from God that He works things for good even in the mess of life. i should rest in that truth more often instead of my plans.
hoppy easter, players.
(thanks audrey and erica for taking pics at easter!)