the soccer season is upon us.
we jimmy rigged layne's outfit. shinguards from his uncle's ninja costume...my white tube socks...regular tennis shoes. no cleats. but when we got there, everyone was hardcore. people straight up buy soccer gear for their kids in kindergarten.
my B!
i thought this was just for fun... what was i thinking.
and then layne gets out on the field and is all slide tackling children.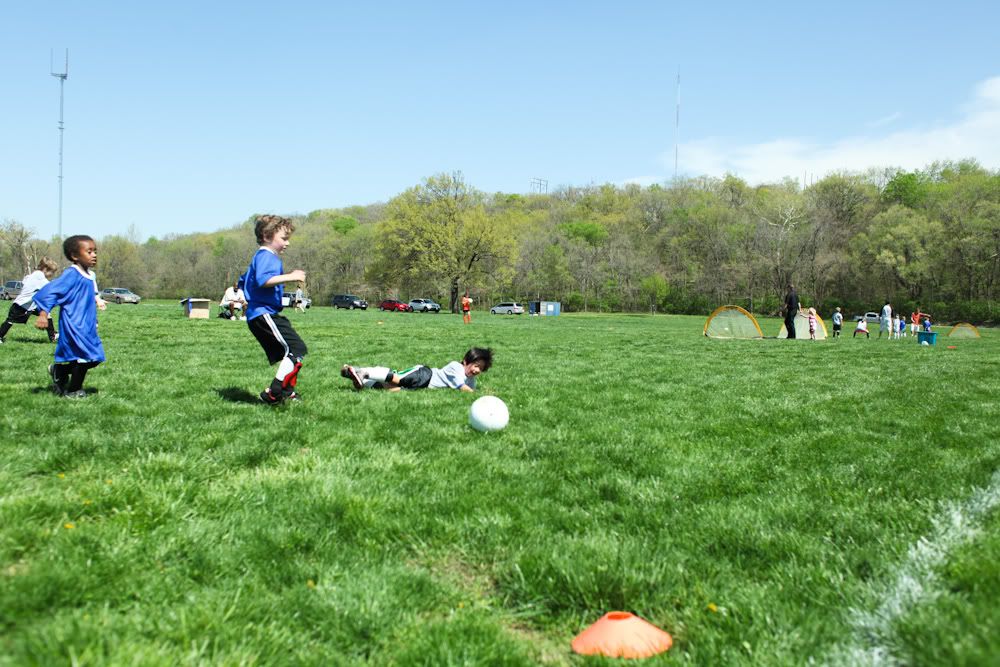 i'm like...
oh, hey. i guess he didn't get my soccer skills.
which means he's not going to be on the F minus team in high school. good for him. i'm still not sure why i tried out for sports in high school. but i kept doing it. and i kept getting on the worst team. why didn't they cut me? i think they felt bad and also marveled at my sheer determination. also, i ran like a kangaroo with my arms up by my chest so maybe it was for laughs.
on the other hand, nato played on the A team his entire life and even in college. he is incredibly athletic. which could be because while i was playing boggle in my basement, he was practicing being awesome at all sports.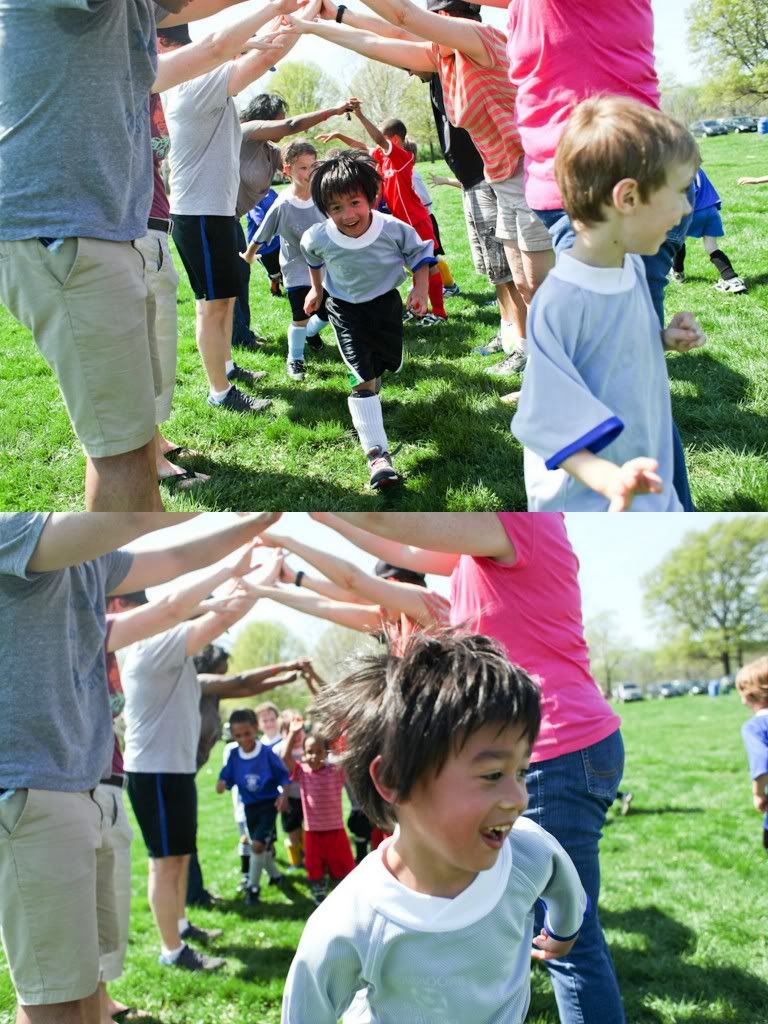 anyway, the kids are more active and i need some healthier treats around here. so here is a healthy version of an oatmeal chocolate chip cookie with a ton less fat than
my normal oatmeal cookie GO TO
recipe. now if you're having guests over and cookies are your dessert, let's get one thing straight: don't serve a healthy treat. that's offensive on so many levels. that's like telling people you don't like them in roundabout way. unacceptable.
but if you're making an everyday cookie(i pretty much really and truly do make cookies every day), this is a good change up. still has sugar in it so i mean, let's not kid ourselves and say these are "diet cookies". or that they will keep you from having a muffin top. although i think...if you ate 100 apples, those would give you a muffin top too. wait, what? i know, i made that up. but it could maybe be true. or something.
anyway, here's the recipe:
i will call them...
offensive oatmeal cookies.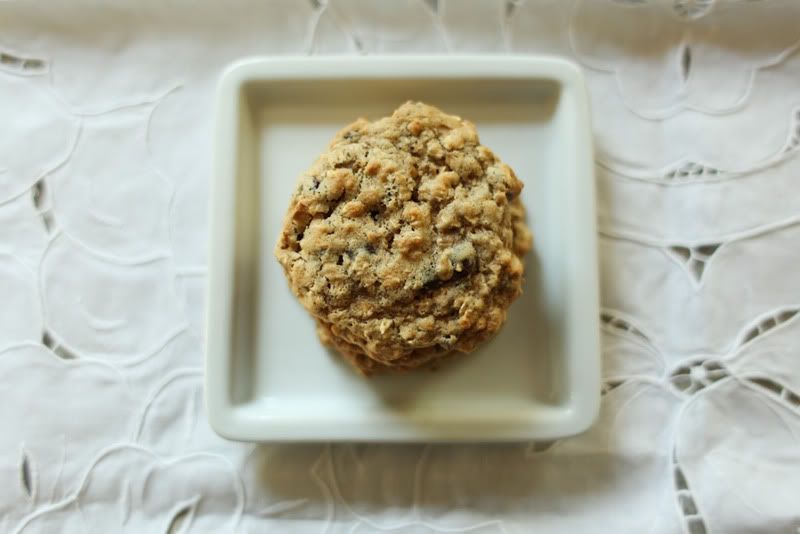 ok no. i will call them
skinny oatmeal cookies
modified from david lebovitz's chewy oatmeal cookie recipe
1 cup flour
1 teaspoon baking powder
1/2 teaspoon baking soda
1/2 teaspoon salt
2 heaping teaspoons ground flax if you have it (optional)
2 tablespoons unsalted butter, at room temperature
1/2 cup granulated sugar
1/2 cup (packed) light brown sugar
1 large egg
1/4 cup applesauce( i had a peach applesauce mix)
1 teaspoon vanilla
1 1/3 cups oats
1/3 cup raisins
1/2 cup of chocolate chips
ok now here's where i do things a little different from bakers. i throw everything in the same bowl...i don't really separate dry from wet. so sue me.
cream together your butter applesauce, vanilla and sugar.
then add egg. mix.
then the soda, powder, flax. mix.
then the oats. mix. flour. mix (you get the point right?)
then raisins and chocolate chips. mix.
people over mix their cookies. and it makes them tough. you want to just mix until whatever you've added is incorporated. especially once the egg is added...easy on the mixing, people.
spray a pan and load the cookies on the pan. i make the cookies gigantic because it's how angels make cookies in heaven. what?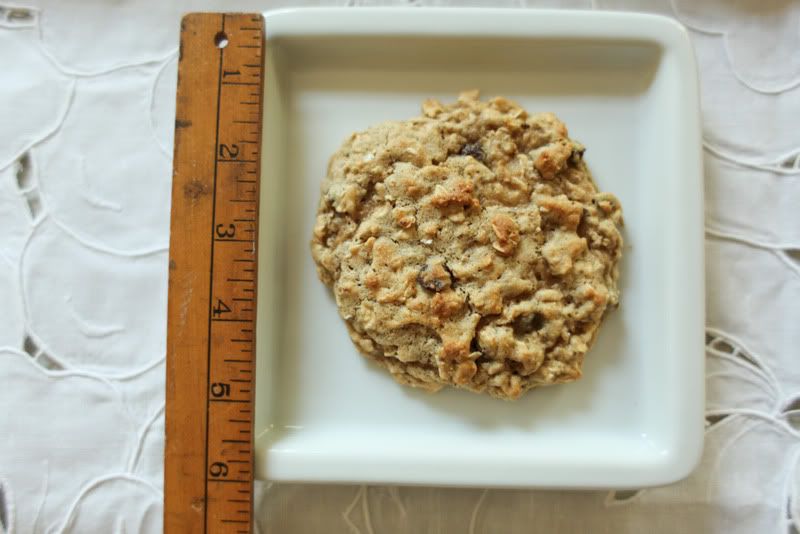 so then bake these at 375 for 10 minutes.
they are so delicious. seriously. i don't put things on here that i don't LOVE. but i really didn't notice the missing fat one bit. they are so chewy and so good. even nato was like, i can't really tell the difference.
i will eat these for breakfast and not feel bad. not one bit.
nor will i feel bad serving them to my little athlete.
sorry lila, these are not gluten free. sad face.