the season of easter has a lot of weight for nato and i. he asked me out the first time on maundy thursday. oddly enough, we ate a bar after church. wait, what?
we were married 6 months later.
fast forward 3 years, and nato and i went to church for the first time as a family that easter...after being separated
because of the affair
.
timely right? all that easter signifies. life after death... beauty from tragedy...
the other week i was feeling a little low.
a little unconfident. about this blog. about sharing our story so openly. about meeting with people going through infidelity and saying hard things to them. about living honestly and openly in front of people. in real life on on the mighty interweb.
because not only is it hard to say super honest words, it's hard to hear super honest words. because with those words come embarrassment, pain, maybe conviction, maybe change. i get that. people have said things to me that i didn't want to hear, either.
and so comes the push back. with friends or with family. with readers.
in processing through this, i first think...
are they right? should we not talk about this like we do?
if people bring something to your attention. you should press in and process it. we should listen to each other without defensiveness and bring it before the Lord. imagine if we lived like this! i say this to myself as much as i say it to you.
and funny things happen when you bring thoughts and questions before the Lord.
they are combated with truth.
it's like God was saying,
who do i say you are? what do i call you to do? who are you writing for? who are you trying to please? where does your confidence come from?
the answer is clear: i am writing to proclaim the power of the Gospel in my marriage. and in my heart.
i will not hide what God is doing in my marriage simply because it's not pretty and neat. it's messy and gross.
i will not stop boasting in Christ because people say i am too religious. too preachy. if proclaiming that God has saved my marriage and saved my life, then call me a preacher (get those fans out and wave them in the pews, my friends).
i will not stop telling you of our weakness because it is not us who made it strong. it is God who worked a miracle and brought us back to life. even from the worst pit i've ever known.
if we truly believed what God says about us.
if we truly believed that the Christ's blood covers us and that God sees us as perfect.
if our hope was o n l y in Christ.
if our identity was found in him.
if the Gospel took over our lives.
we would stop caring about our secrets and how they make us look. we would stop trying to puff ourselves up with false humility. we would stop making ourselves look like something we are not. we would stop comparing ourselves to other mothers, other bloggers, other photographers, other creatives, other anythings. we would stop judging others for their choices "we would never make".
the focus is off others and ourselves and onto God.
God tell me who i am
.
and when you believe what He says, it transforms your life. yes, even you who has been a christian your whole life. it will change you. and it doesn't stop changing you. ever.
so much so, that when your husband finds love somewhere else, you still believe that God is there in the mess. and that he will work sin for good. it may not look what you think it should look like...but you believe that God reined over sin on the cross. he conquered it.
why do we forget that so easily?
praise God that my husband cheated on me.
praise God that as i stared out the window, crying and watched my husband leave, He had a better plan than me.
that through this, i finally understood my heart was dark too.
praise God that He brought me to my knees in repentance alongside my husband, whom i was just as terrible.
praise God that my husband turned to God and came back to his family.
my husband picked the hard road and did what most men would not do because they are cowards.
praise God that nato says, my reputation is nothing. write. tell the world.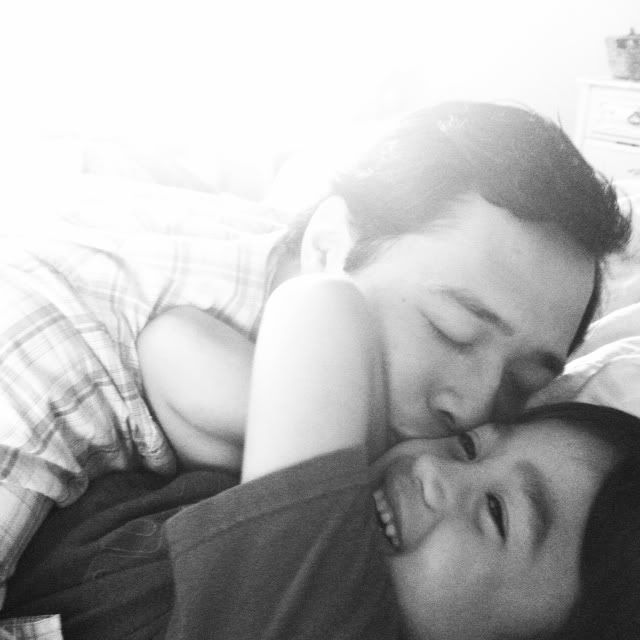 (thanks instagram for the best app ever in the world. you win.)

do you think nato sits in the corner and cries when i post these things? no. he says, publish that. tell the truth. i will not stand in the way.
that is a strong man and that is a good man. and i am proud to call him my husband.
and it's all because of God.
i am not awesome and he is not awesome. we have nothing good in us apart from God. can i make that clear. we are weak and we fail daily and hourly.
(for instance, we ate sweets after 4 weeks of giving them up for lent. just couldn't go the next 2! how hilarious is that? Jesus died for us and made the ultimate sacrifice and we can't give up cookies.)
i will continue to boast in our weakness that God will be glorified.
i will not stop talking about this. as long as i live.
if you can't handle the heat, get out of the blogging kitchen. (blogging said as a cuss word)
there are plenty of other fluffy blogs to read.
this is not one.