i'm a little late in posting our christmas festivities. but the important thing is that it's not on time...but it's written down.
our story is important
and should be treated as such. so is yours.
so on christmas eve, we do a toofurr. or two-for. or double whammy. we hit up my mom's for lunch first.
and were greeted with home videos projected on the wall upon our arrival. what? dad was in the reminiscing mood. plus he got a new projector toy.
so we saw some hilarious videos from days of old. where i obviously looked really hot...with braces and missing teeth. it's true. nato was like...
wow, glad i got you after all that
. luckily, baker women age well. some people get uglier through the years, but the baker gals get prettier. (this is what we tell to each other every year in hopes that it will become true.) we get moles removed, mustaches waxed, braces off, we start brushing our hair and we stop looking like men. it's kind of amazing what all that will do for a gal. some would say it's common sensical. i say it's only common sensical if you use the word, "sensical" over and over again in one paragraph.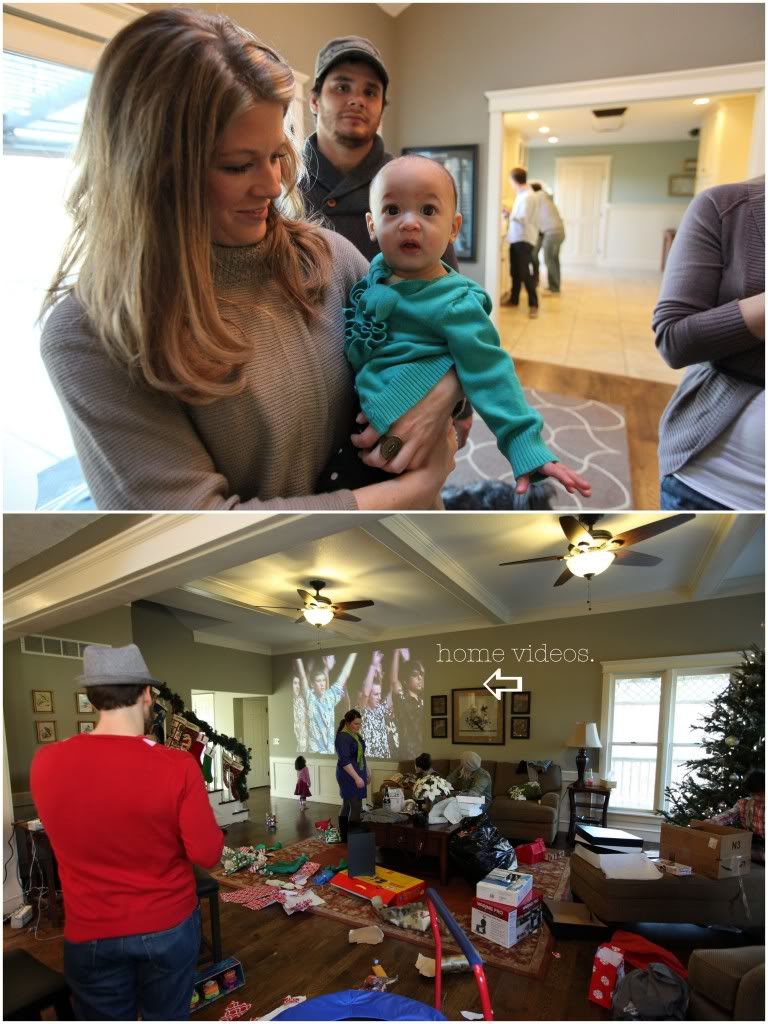 anyway, layne played the trumpet with my dad and was really good at it. most people can hardly make the trumpet work. but layne picked it up and knew what to do. we thought about putting him in trumpet lessons and then quickly laughed at ourselves for even letting this idea pop into our brains. for we would not like to endure the practicing of a loud instrument all our lives.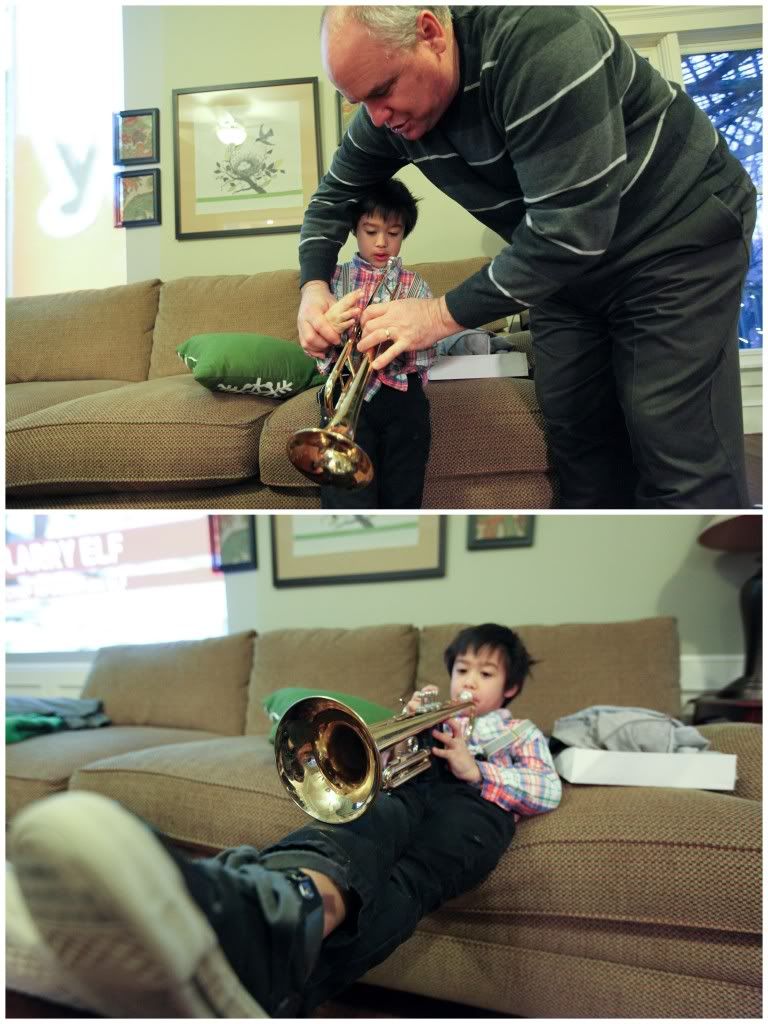 this picture below is where i'm saying,
playing the trumpet is dumb!
and everyone agreeing.
we opened too many presents. one of which was a sonicare toothbrush. that's how you know you're old. when you ask for a special toothbrush.
also lila threw up 4 times at my parents. it was amazing. and everyone got the bug later.
you're welcome.
so then we head to the nato side. here is some food that we ate. ya right, i don't eat anything that looks unamerican, because i am lame and picky.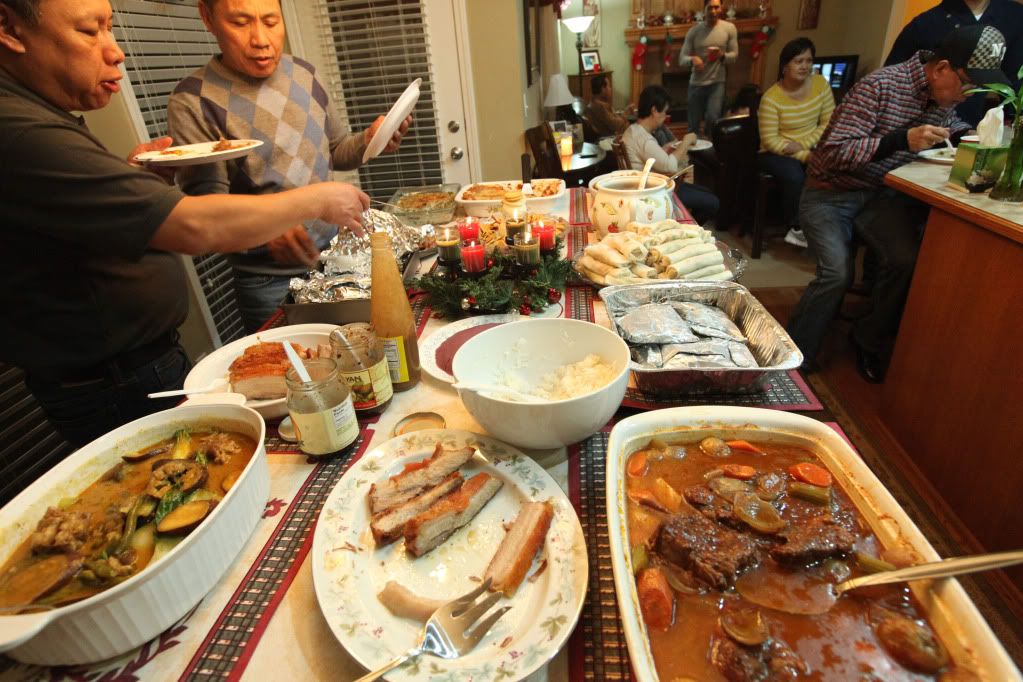 i have no idea what these dishes are made of or what they taste like. nato says they are delicious. i'll take his word for it.
then we played games.
ya. we did.
this guy was looking for a penny in a bowl of flour. he never found it.
but ya, the filipinos are very competitive. they watch if your toes are over the line and stuff. they get mad at each other and sometimes they cheat and stuff more marshmallows in their mouth to up their number of "total caught". it's great to watch.
this is just a sweet picture. lola and penelope. "
lola and penelope
". that sounds like a boutique but it's just my family.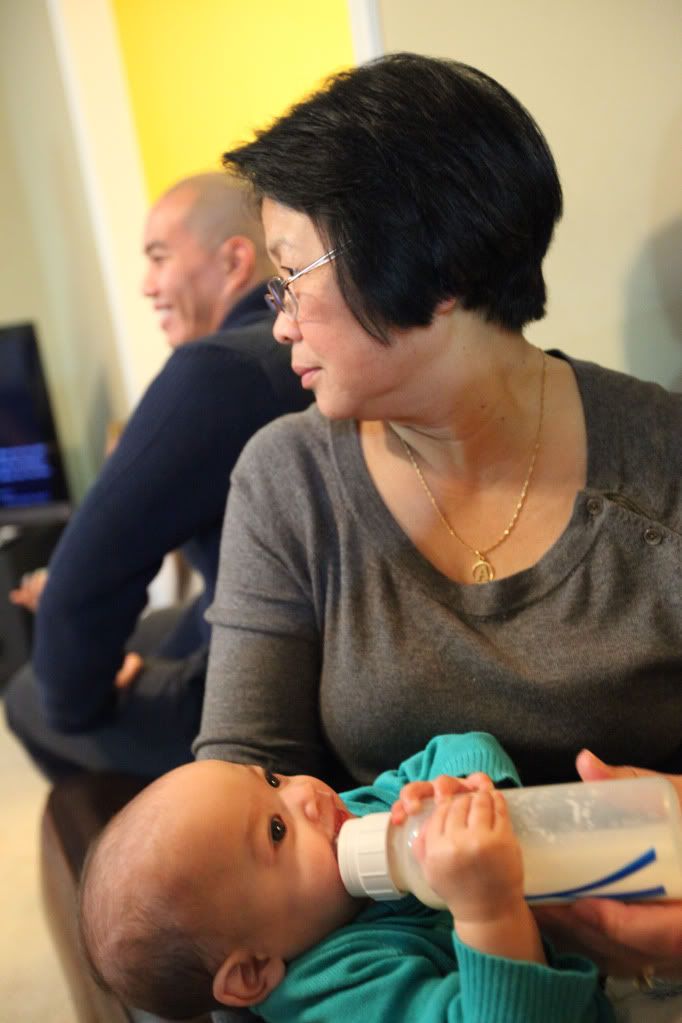 then the kids get spoiled. very spoiled. it's kind of insane.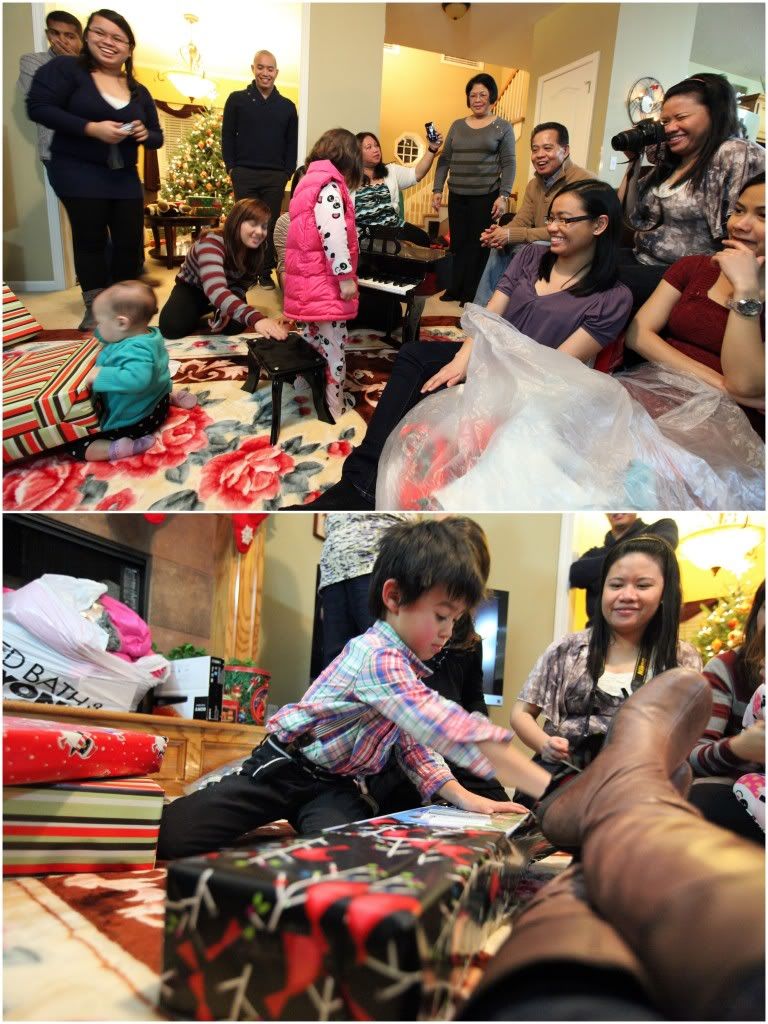 lila also threw up here a couple of times.
on chrismtas morning, lila was still sick. just sprawled out on all the toys. awe.some.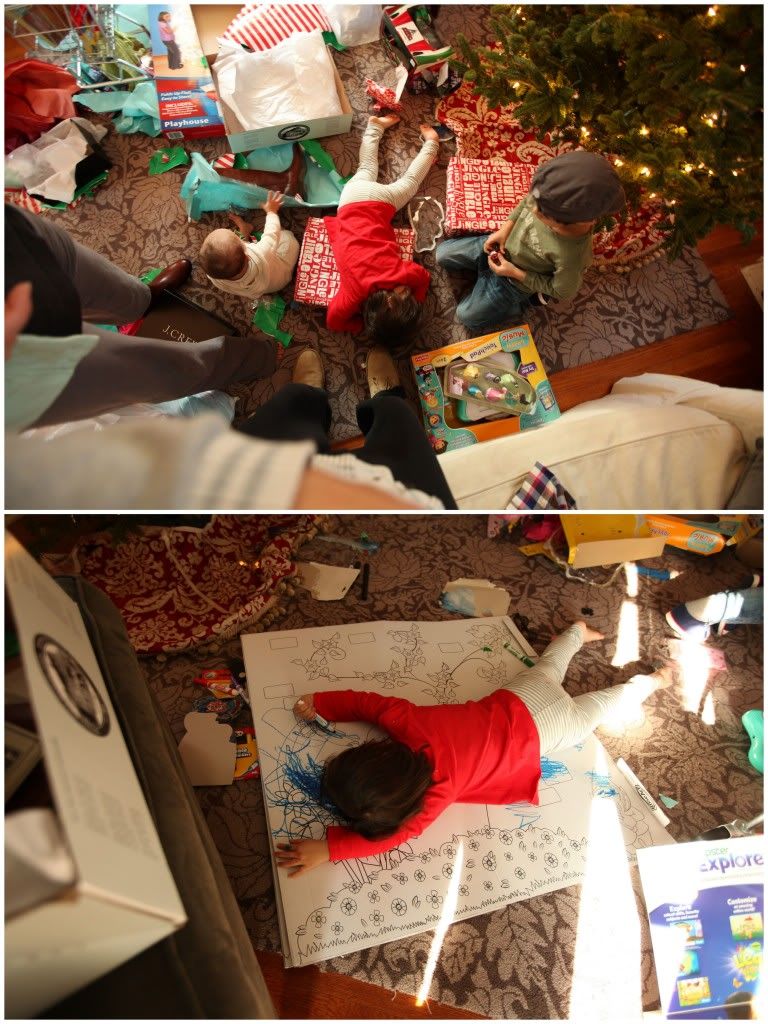 nato and i got matching shoes. sick...who gets matching shoes? that's so nerdy. we do. PROUD MATCHERS.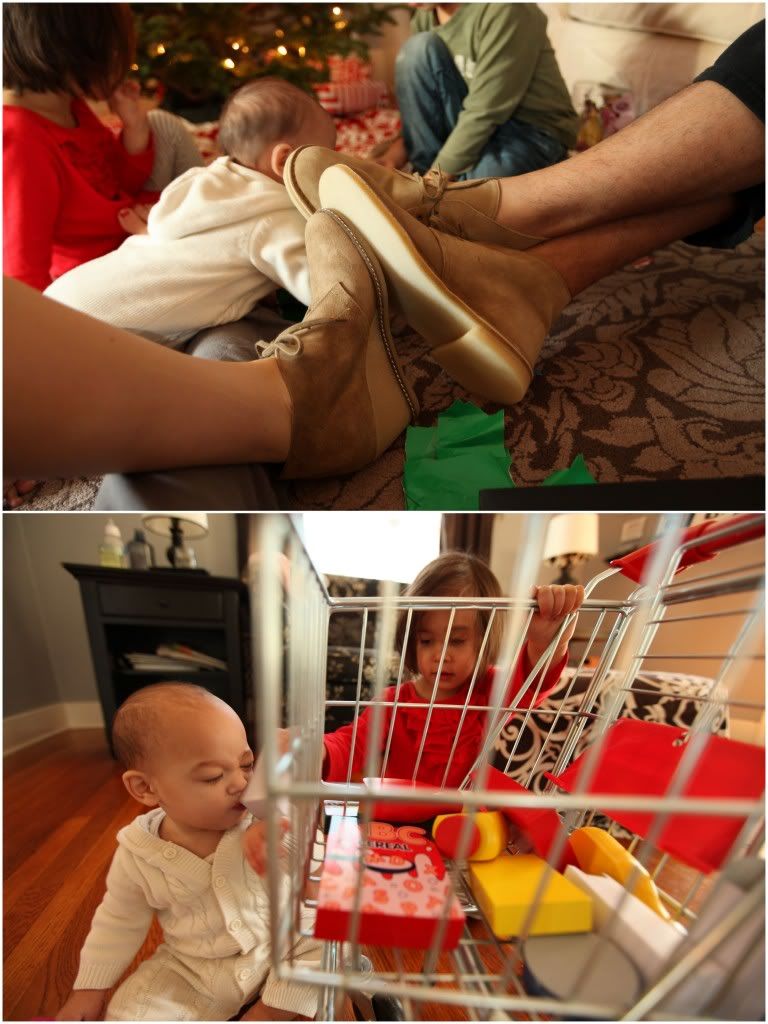 (a little smash in the face never hurt anyone, i always say.)
and the kids got more than they needed. and don't play with a lot of it. hence, the post before this...christmas will look different. i'm excited to document our journey of gratefulness this year.
we're sick of being ungrateful. get it? a play on words because lila's sick in the pic?! ok, dumb.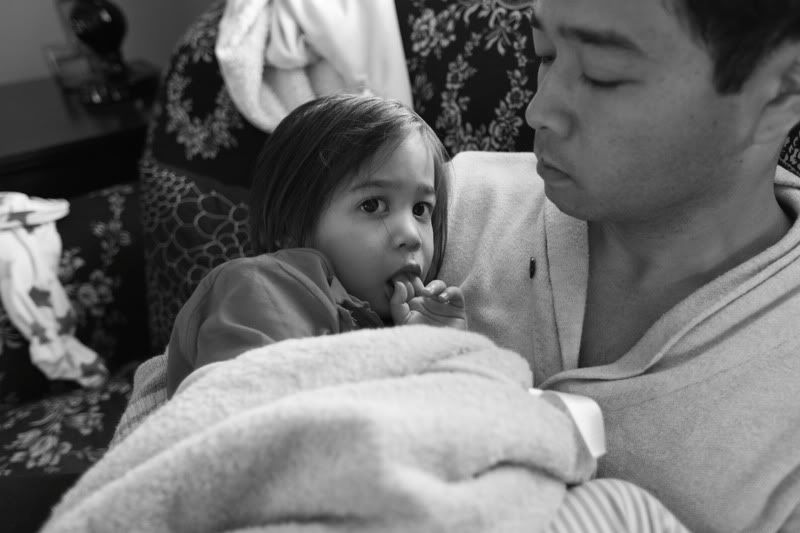 happy new year. and stuff.