so i wasn't just saying this year was going to be different to say it.
i mean, you can say you're going to lose 50lbs this year and then the next day your at target walking by the christmas clearance section. where those christmas m&m's are. for 70% off! be still my beating heart... ok it's true, this happened today. and these 2 overweight older ladies were filling their cart and one of them says,
what about that resolution to eat better?
and the other lady was like,
oh, i already forgot about that.
chuckle chuckle. awkward silence. bag crinkling and clinging into the basket.
and i would have taken a couple bags too if we didn't resolve to do this detox thing. and write it down. and make a plan. and make other people do it with us, so as torture them and also to have accountability. but will i make all week? i don't know. but i'm trying.
and we're detoxing in other areas too. detoxing from stuff we don't need. and accumulation of meaningless things. and thoughtless days. and ungratefulness. spending money that doesn't need to be spent. aside from a few gift cards from christmas, i'm trying not spend our money on frivolous things. in just a couple of days, i have found this to be difficult. telling myself no at target. some people say,
just don't go to target
. but wait, is that just modifying your behavior or is it better to just go and continue to practice self-control? time will tell. perhaps i will only find the answers to this and other heavy questions (like why did the show
lost
have such a crappy ending) at the pearly gates.
so ya, just saying that
i want to be more grateful this year
is really vague. and will lose it's motivational grip if i don't have an action plan behind it. go ahead, say a goal. i bet it's vague.
now ask, what does that look like?
there. now we're getting somewhere.
for the first time in our marriage, nato and i wrote down goals for the year. we felt kind of nerdy for some reason. nato looked at me like i was insane when i actually handed him a goals worksheet.
but he was a good sport and filled it out.
and i made one for everyone! yes...it's like oprah. YOU GET A WORKSHEET! YOU GET A WORKSHEET....YOUUUUUU GET A WORKSHEET!
now there is nothing fancy about these. you can find much more detailed and cute ones on the mighty intranet. but there is something great and underwhelming about being simple. who needs to be overwhelmed by overly detailed lists that you'll never be able to keep up with? not me.
i wanted you to be able to print them off and not waste all your ink. it doesn't need to blow your mind. it needs to help you accomplish your goals.
i made them black and white too so you don't have to waste your color. uhthankyou
here is
the color
.
here is
the B&W
confession: i'm not a planner. i'm not good at being organized. but i am trying this year. i think the one thing that has held me back from writing down goals and planning out days and weeks or vacations or menus....is that by nature, i'm not a structured person. i like to be a free bird. just go where the day takes me.
the only problem with that is...well...a lot of things don't get done. dinner time comes and i'm scrounging for things in the fridge. kindergarten is coming and i'm like...oh hey, maybe you should know how to write your name. ya, shameful. so i need to stop blaming that on my personality. and change some things up. there will certainly be a balance between structure and the latter. so i created a little ditty to help me plan out my days as well. specifically...what i'll do with each kid every day. 3 simple things. i think i can handle that.
printed here
.
here i will circle
3 things
that need to get done that week or that day. these are specifically things i hate doing. which is like every chore, basically. hmmm. anyway, i'm going to make a notepad on vistaprint.com...but for now, this will work.
that one here
now the truth is, these lists will not get filled out with every day. i'm going to
try
and do them for the month so as to create a new habit. a thought process. maybe i'll just write them out on the chalkboard in the morning. i'm going to also give myself grace. i'm not going for awesomeness...just habit change.
but doing the same thing every year by making vague resolutions or saying that resolutions are dumb as yielded nothing. surprise! goals actually work when practiced daily.
so on january one, we said...let's do this. structure style.
in uncle tony's language, we said
come here you devil log!
(turn off the music at the bottom of the blog to get the full effect)
this is from a movie called heavy weights. about a fat camp with a fanatic health nut played by ben stiller. if you're looking for an inspirational movie, watch this. NOT really.
anyway, we are working through what gratefulness looks like in our family. so we removed
every
toy from downstairs and upstairs and everywhere. we went through them all.
there were broken toy pieces, trash, non working toys, things the kids don't play with, and spoons from the kitchen(what?). there those were.
we threw a ton out. a TON. isn't it weird how we just let our homes become heavy with trash? needless stuff we don't look at our play with? it feels heavy living like this.
it was an all day activity. layne said he loved every toy. of course. it's like me going through my shoes...oh
but i love these! even though i haven't worn them in a year! and my feet have grown since i had another baby and they don't even fit. i think i'll let them clutter up my closet for yet another year instead of give to someone in need because i'm selfish! yay!
he was scared that anything i touched was going to be thrown away.
nothing was safe...wahahahahaha!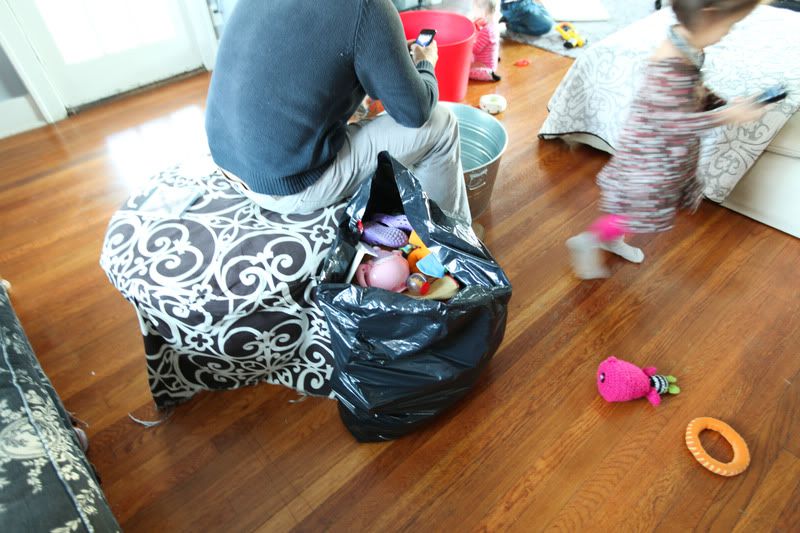 so once we organized everything into groups...
babies
blocks
legos
coloring
books
cars
etc
we took it all to the basement. we set it up in a way that the kids could see in each bin. we wanted to get shelving, but we thought it would be better to save the money and just keep it on the floor for now.
there is literally nothing to play with upstairs. the kids have to be intentional when they want to play with something.
layne thinks about it.
he asks to go get it.
brings it upstairs.
when he's done, he has to put it away or he can't go get something else.
can i just say, that this has been amazing. my house is not insanely messy all the damn time. nor are their bedrooms.
wow. it sounds so drastic, and it kind of is. i guess... in america. i think of children playing in trash heaps scrounging around for something that resembles a ball and i don't feel so drastic then.
and 'm pretty sure most of the fun my children were having was in just making the mess.
bold statement, i know.
so anyway, all that to say, i believe this is helping gratefulness because the kids have found a new appreciation for toys they already have. layne says,
it's like we have a store in our basement!
there is a sense of gratefulness shown when you learn to take care of what you already own.
and you don't need to be overstimulated with 800 different toys staring you in the face at all hours of the day. it makes no sense to ask our children to be grateful and then bombard them with more than what they need constantly.
over. stim. u. lation.
layne is playing with toys he hasn't played with in years. score.
our house is getting de cluttered by the minute. PTL.
and i am needing God every minute to help me stay focused on what i feel He has stirred up in my heart.
repenting is a process that is painful yet good. or something deep like that.
but strangely enough, through the repenting, i actually feel vibrant and energized. looks like all that stuff was cluttering more than i thought.
i read a verse today(acts 3:19). it said,
Repent therefore, and
turn back, that
your sins may be blotted out,
that times of refreshing may come from the presence of the Lord...
sums up what's going on in our lives right now.