ok so a little biz-nass before we move on to glorious chapstick,
i believe i've been nominated for the blog guidebook's top blogs...
do i know what this means? not really. i don't even know if it's important. the competitive side in me wants to win. and if i do win, i promise to put dr. pepper in all the school's water fountains!
so if you want, please vote for me
here.
i think the poll closes in two days. so do this now.
moving on!
i had an excruciatingly gratifying experience the other day when i made my own chapstick. not the making the chapstick part per se. but the part where i went around and found every tube of half used chapstick and filled it up with my science experiment. i could hear dollar bills in the background. i don't know what dollar bills sound like, but i think i was trying to say that could hear the cash register sound. that is neither here nor there. let's talk about how to make this.
i found this recipe and instructions at
passionate homemaking
.
it takes 3 simple ingredients. or in-gree-dee-enths.
2 TBSP pure beeswax
2 TBSP pure coconut oil(not from the cooking isle, but from the skin care isle)
2 TBSP pure shea butter
(really your measurements don't have to be exact)
you will find these things online or at your local whole foods/hippie establishment. ask the weird lady that works in the skincare/medicine isle and she'll help you. (they always are so strange in that section...are they not?)
i bought the huge block of beeswax, because it was so pretty. my husband is cringing as he reads that...he's all like,
quit going over budget at whole foods.
that's like saying
jami,
quit growing a mustache.
it's impossible.
but the point of all that is, you can just buy the sticks of beeswax for cheaper.
instructions:
in a double boiler, melt all this shiz together.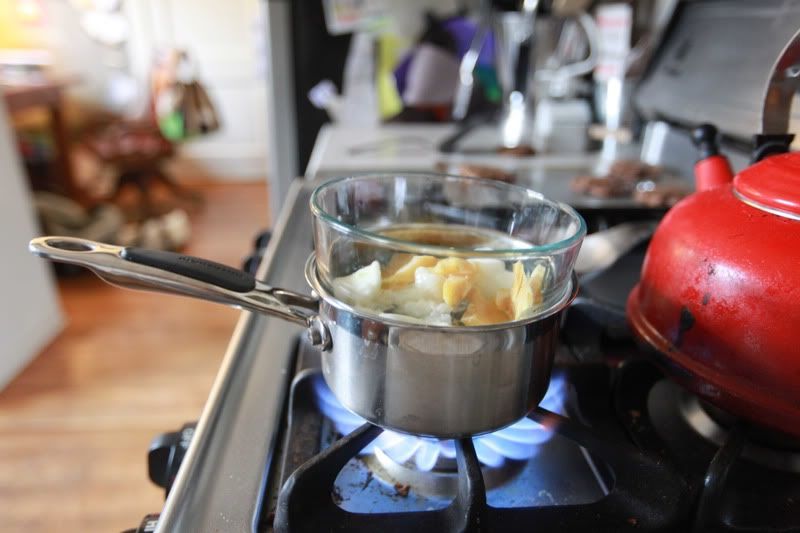 (yes, my tea pot and stove is nasty. and yes, those are double choco chip cookies in the background. are you jeal? this is a real kitchen people. i cook here and i make messes.)
wow. that was incredible. because that's all you do. melt it and stir it with a metal spoon(it will stick pretty fiercely to wooden spoons).
if you're like, what's a double boiler...it's just so you don't burn your ingredients. put a glass bowl over a boiling pot of water. don't fill the water in the pot all the way, you don't really want it touching your glass bowl. but i mean, if it does, you'll still be ok.
ok now, once it's melted, still keep it on the pot. your chapstick will set very fast if you take it off the heat while filling.
then steal one of your kids medicine droppers(it will get ruined, so keep that in mind). and fill each container with the beeswax stuff. i actually used a different one than shown. the one with the rubber top that you smooth and when you let it go, it sucks stuff up. what do you call those?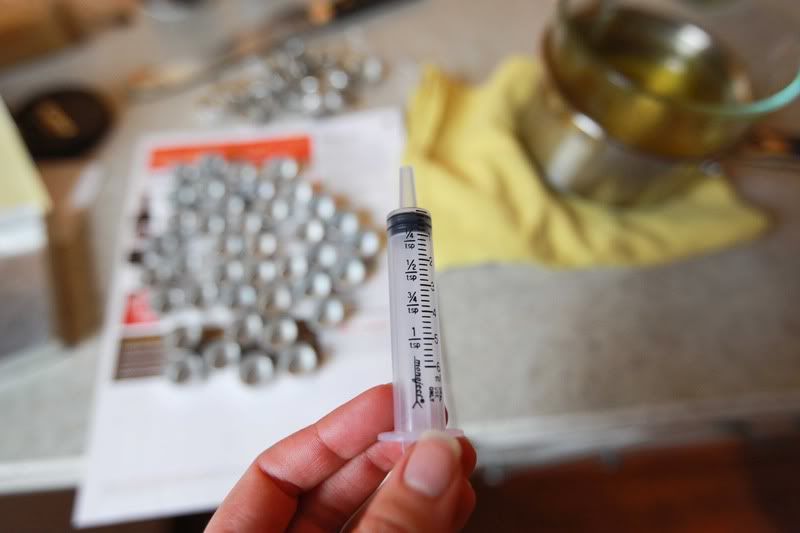 and drop it in your containers. i bought these online(from a place called
widgets
. they are aluminum bead containers). they are teensy. and apparently for storing beads, but they work great and are cheaper than chapstick tubes.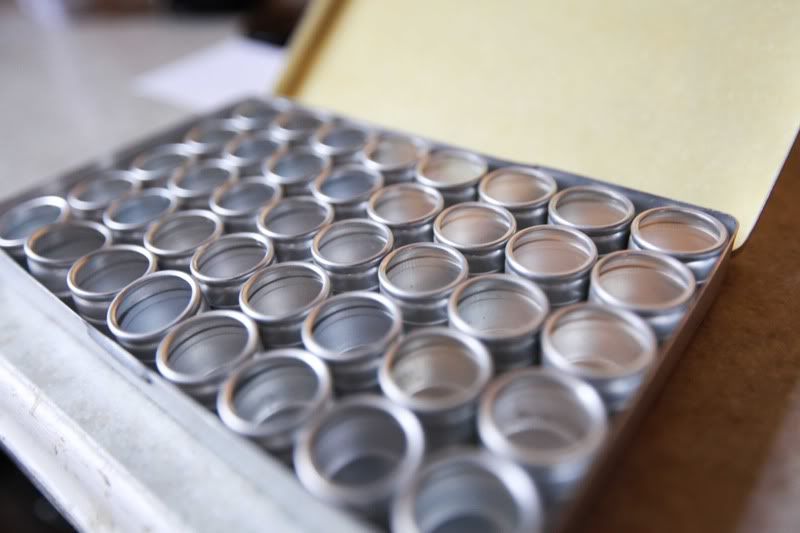 when the chapstic dries, it will shrink and make a divit on the top, so once it's dry, fill it back up with more.
and ta-da! look, you're awesome. you made chapstick.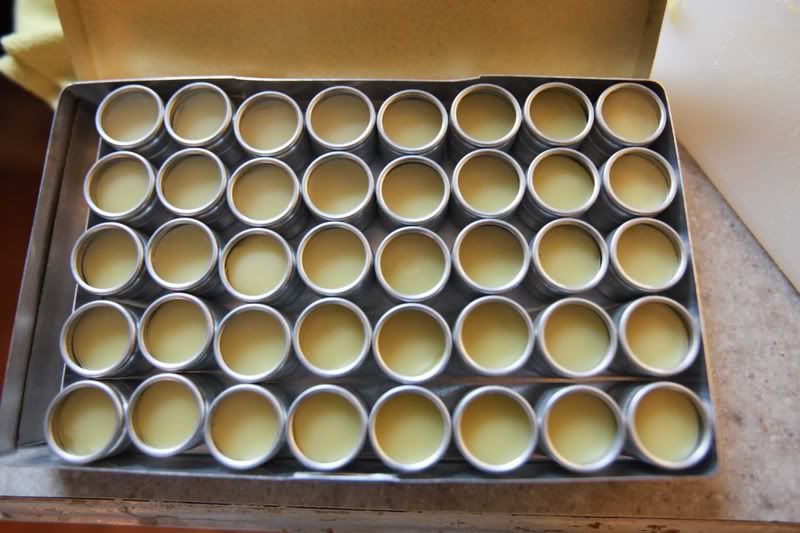 i gave these as party favors at
the bee shower
.and everyone gave me hell about it because they thought that maybe it took me forever? no, it didn't.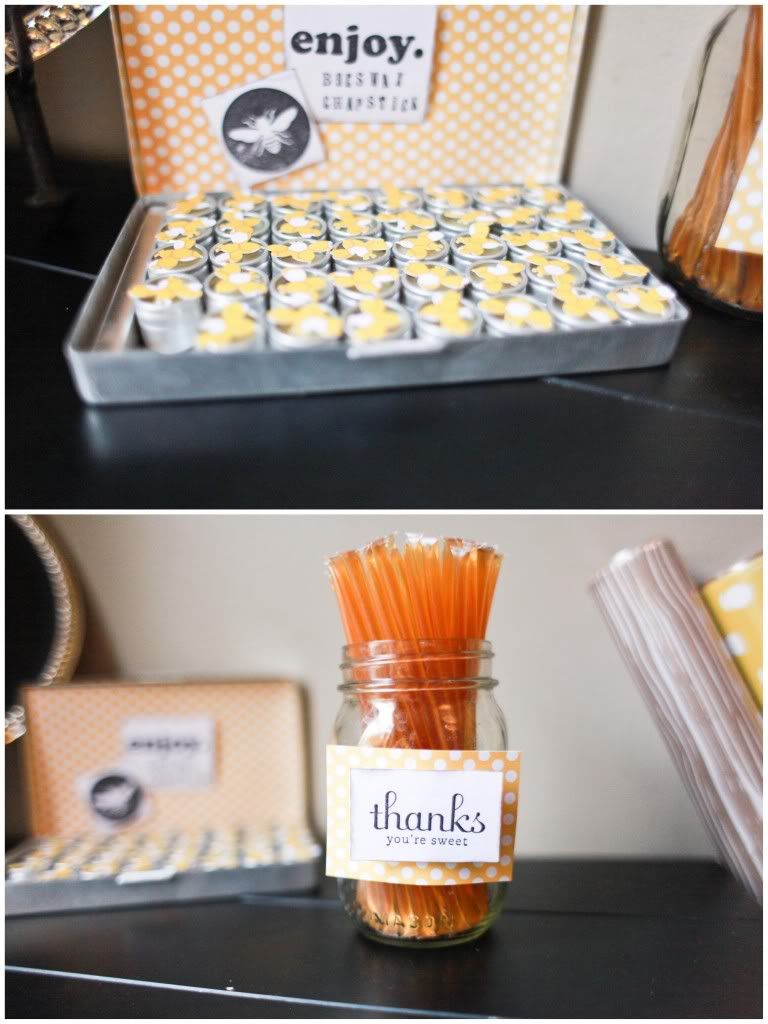 the only problem is, i have a ton of beeswax left. what to do, what to do. looks like i'll a)make more chapstick or b)put it on the bottom of my surfboard to make me go faster(i just love surfing in kansas!) or c) put it in my chocolate candy this year instead of paraffin. which is disgusting i know, but it makes the chocolate so crunchy. and also probably clogs arteries... wait, what? whatever.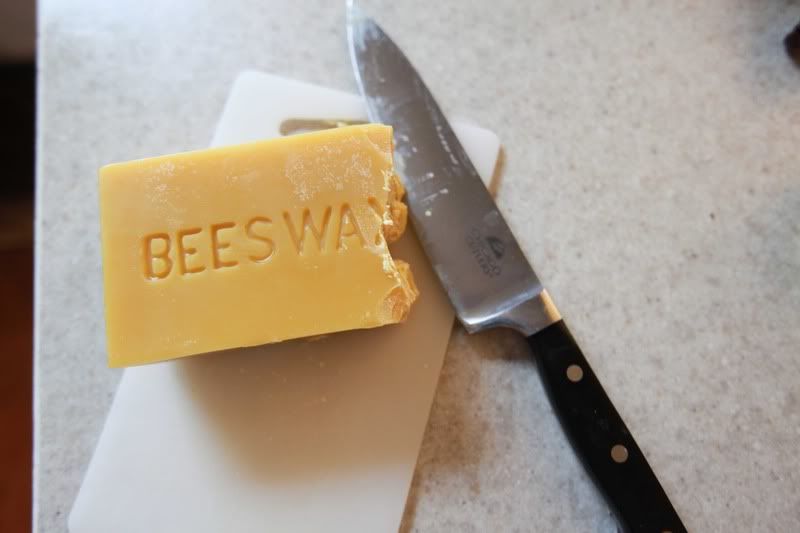 i think these would be great little gifts to your friends over the holidays though. cheap and simple and something everyone needs. plus, you're giving them the gift of chemical free lips. and i think we can all agree that that's pretty much everyone's goal in life. am i right or am i right?
and FYI, this chapstick is magical. i love it. it's the perfect texture... been using it all week and have no complaints.