heather
is one of my good friends.
what makes this shower, like, super wonderful is that heather waited a long time to have a baby. not on purpose. they tried to have a baby. couldn't. then adopted a sweet girl 4 years ago, took a break, then started some treatments after that. it didn't work. they tried and waited and tried and waited and it wasn't working. but this one awesome time, it did work.
and Heather got preggars.
and so we celebrate. heather will bring a baby boy into the world very soon.
and he will BEE very loved. did you even see that transition, people?
can you BEE-lieve that awesome pun?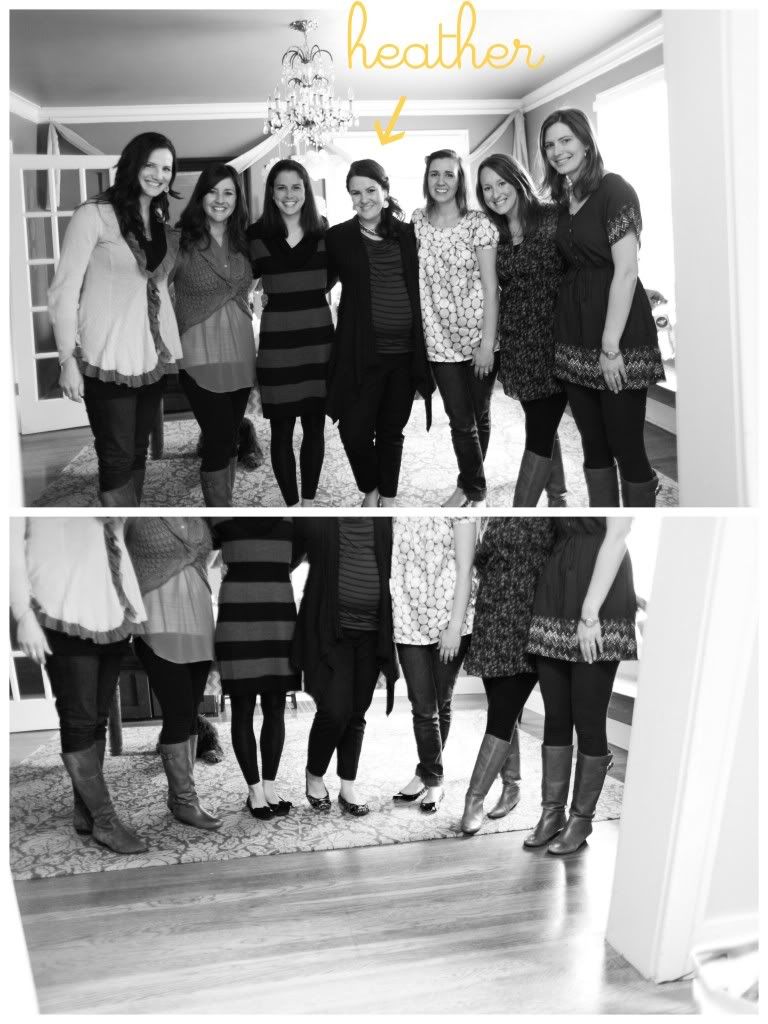 first, meet heather and all the lovely hostesssssessssess for this wonderful occasion.
kristin F
, K
risten L
, (yes, there are 800 kristin's )
Kristin L
, christine and jessie(who do not blog, for shame!)
and also, they are all basically wearing the same boots. these are called "shower boots". you must wear them to showers and stuff. as the title suggests. ok, not really... but they should be called that. actually, i decree this now. on the interwebs. SHOWER BOOTS.
NNN-EEEE-WAYS, let's talk about a bee themed shower, shall we?
the fabric for the tablecloths is michael miller fabric. grey and yellow polka dots and yellow and white chevron.
i made these POM balls, have you heard of them? SLOL(seriously laughed out loud). ok, a little over done, but have you seen
POM bee puffs
? i think not. i added some wings and a stinger and called them bees...and they became bees, because, again...i hath decreed it on the interwebs.
(i did feel a touch awkward looking at the bee from this angle)
a sweet yarn wrapped letter B.
B for BEE,
a B for Boy,
and B for first letter of her babers name.
the stars collided and we picked the perfect
B(ee)
theme!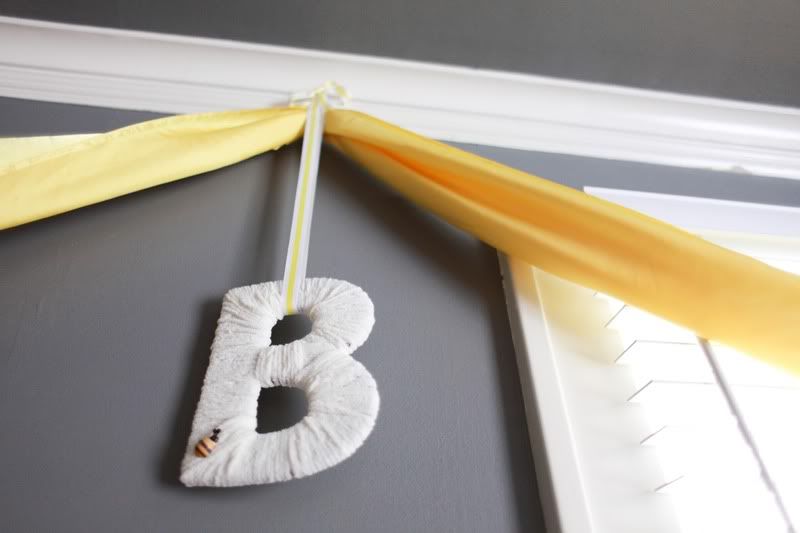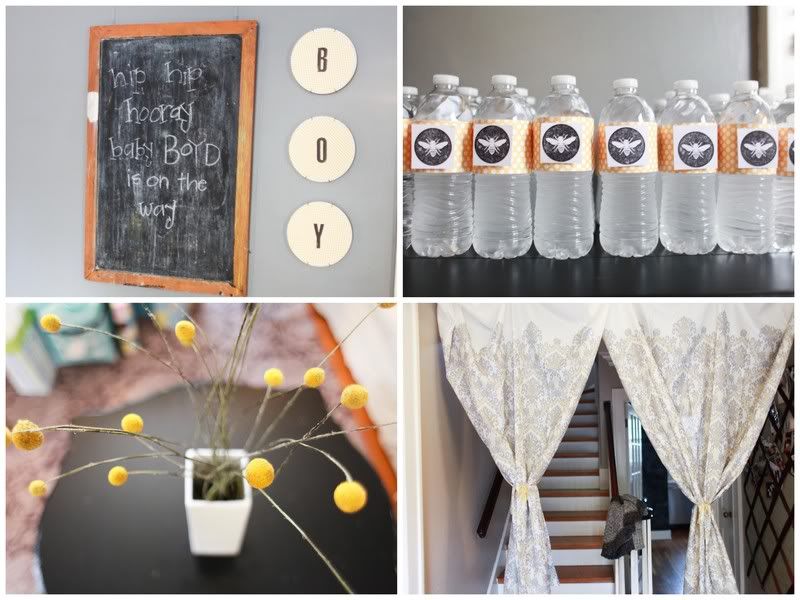 someone tell me what these flowers are called? they are dried, yellow, beautiful things and i don't know the name of them.
and yes those are shower curtains in the entry. thank you jessie for not taking baths.
and i did make nato put paper on the water bottles with me. but don't tell anyone i told you that.
also, i felt like my plates on the wall were out of character for the theme. OH NO. not on my watch. so i just traced the plates with paper, cut them out, and put them right over the plate. of course i stamped them...because...well, i love stamps. buy them when you see them on sale. do this or we can't be friends.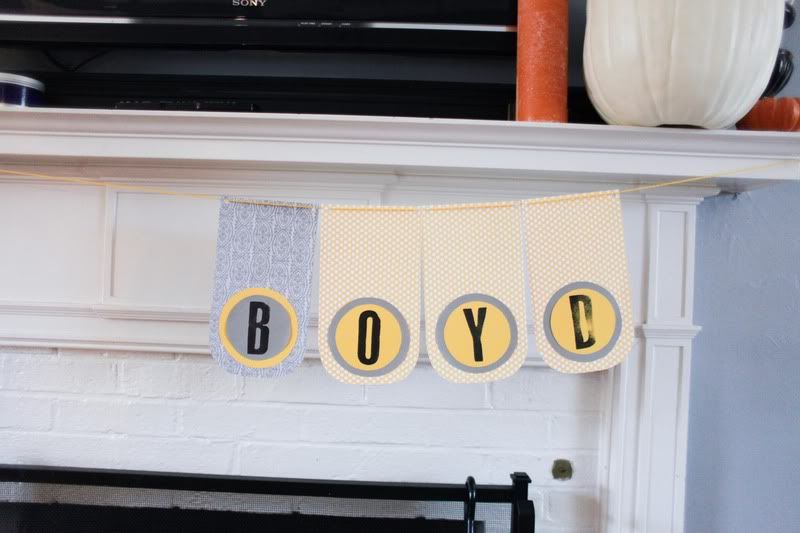 i mean, how cute is this banner that Kristin F made? in a world where pennants are over done, this banner is such a great change.
the menu:
a waffles bar(waffles were gluten and dairy free) and INSANEly delicious. my mother is genius.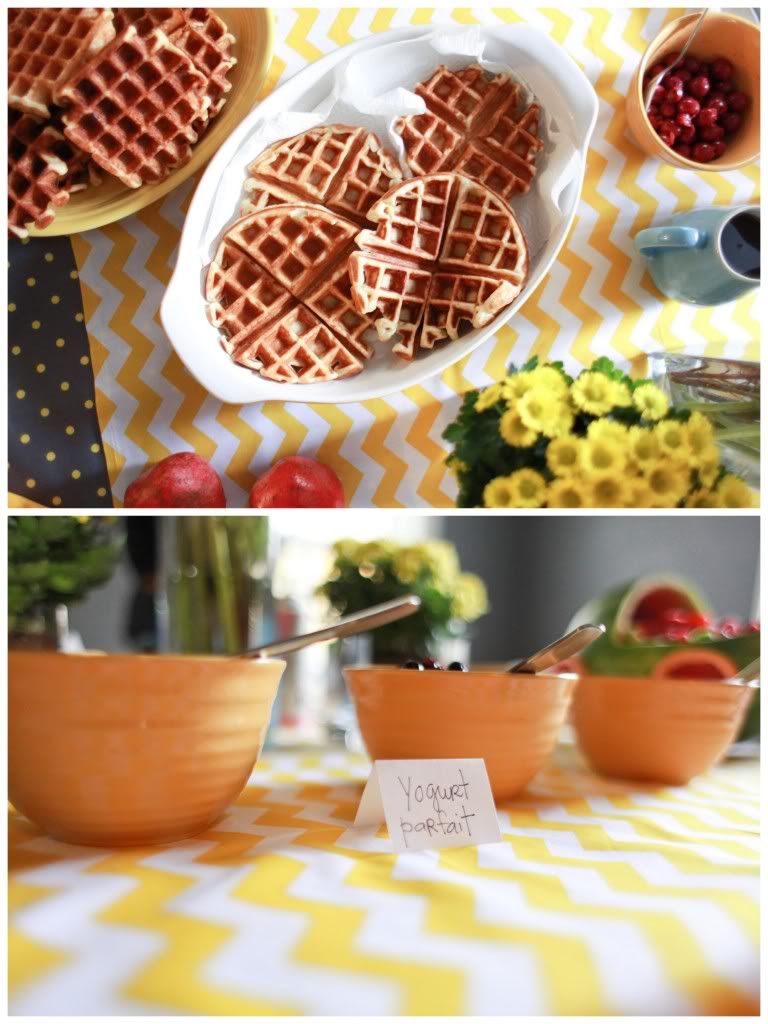 a yogurt bar
cinnamon rolls(have you had the canned cinnamon rolls from whole foods? OMG. love them. i've eaten 3 today. father forgive me for i have sinned.)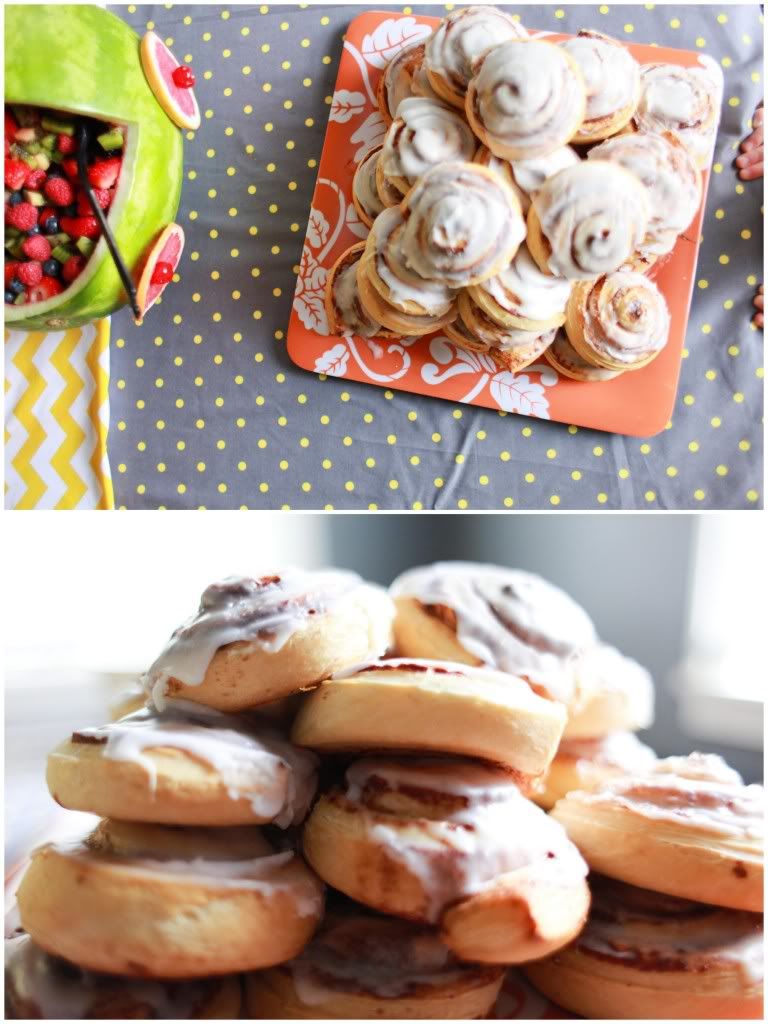 fruit: a baby carriage fruit situation! so cute.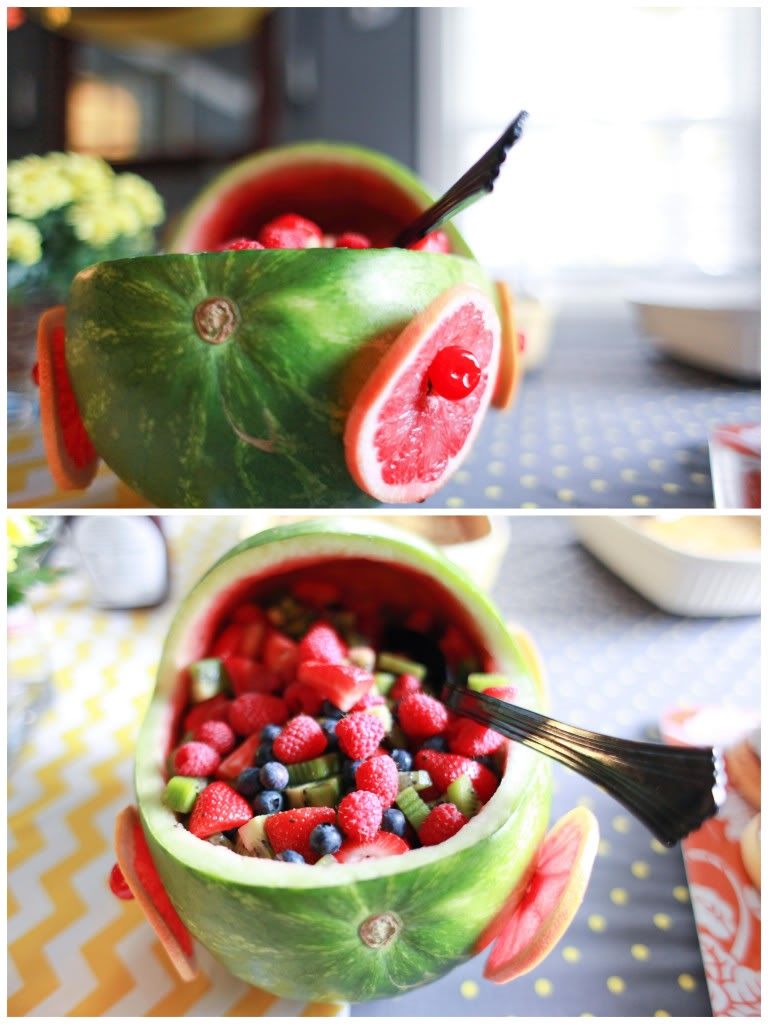 kristen L, you rocked this.
and we also had egg casseroles but i didn't take pictures of them because... i mean, who even likes eggs? ok, everyone...including me. i just forgot. deal with it. sorry kristin L and F.
and for party favors, i made chapstick. what? you think that's crazy. well it's not. you can make your own on the cheap. and i shall blog this later and you will snort with delight because it's so easy. thanks christine for meticulously cutting out bees while our kids watched shows. i mean, played educational games while praying.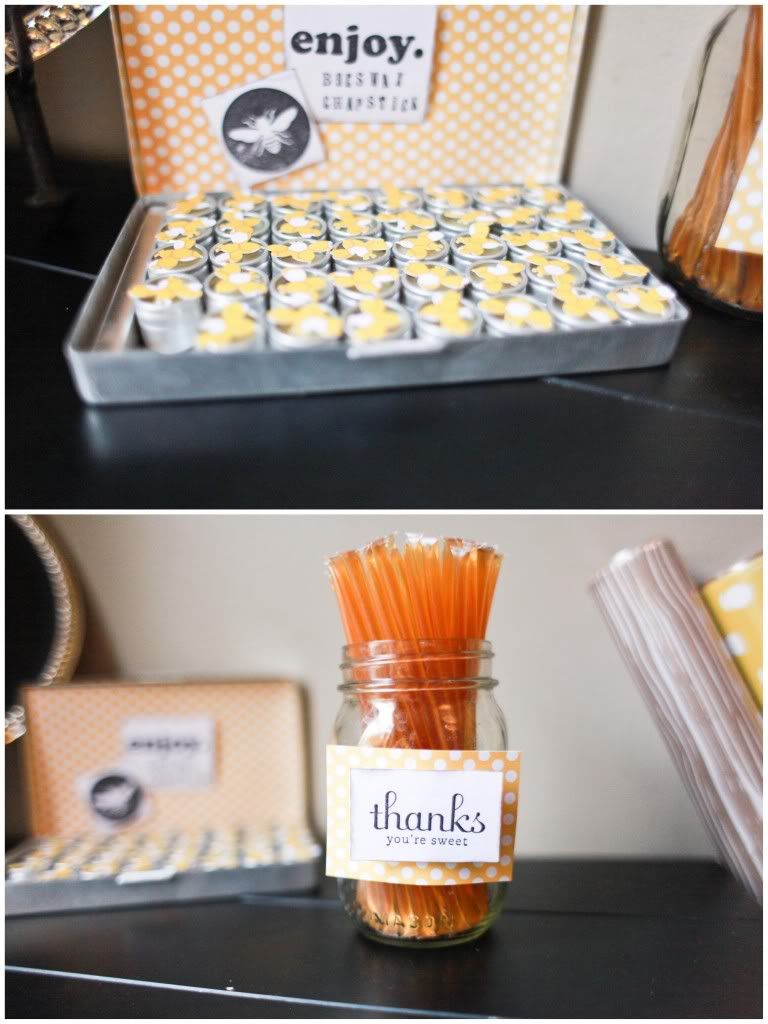 we also gave honey sticks for favors. apparently people eat these at farmers markets and fairs...i have never had one. still won't. listen, if i'm going to eat sugar it's obviously going to be in the form off a cinnamon roll or snickers bar.
we had a lot of fun. i think i speak for all of the hostesses-essess, when i say, we loved honoring heather at the shower. she is a good friend to have, she has a joyful spirit, and a love for dogs that can not be matched. (ok she hates dogs)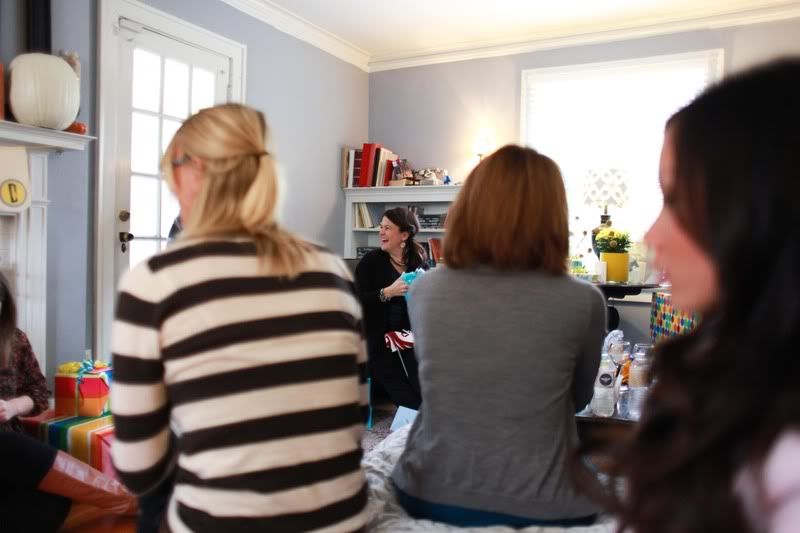 happy baby, heather!