*winner of doll giveaway announced at the end*
----------------------
hello, my name is jami and i'm a verbalizer...i type what i think and then i basically just hit publish because i know that it's cemented when i do that. no turning back.
so here i go.
a couple of weekends ago, my husband and i went to what i thought would be a training session for an intense small-group-type-thing called,
redemption groups
. these groups are based off of this amazing book called,
redemption
, by mike wilkerson.
read.
this.
book.
redemption groups would be a place where people come who are going through something intense and need a place to work on their issue...like things that a normal small group maybe wouldn't be able to handle. eating disorders, addictions, affairs, trauma, disfuntions...you get it? for instance, a couple of years ago, when nato and i were going through
his affair
, they would have taken us out of our normal small group and placed us in one of these groups. it would have been a great help to us. kind of like group therapy.
so we get there and they say,
we can train you best in what these groups do, by just making you all be the participants in a typical group.

i'm like...
great. i love group stuff. this doesn't scare me. wait, what are we doing?
there were only 5 couples there...so after we learned some key points from the book, we broke up into small groups. girls and guys. all married. some with kids, some without. all pretty young.
the instructions are:
in 10 minutes, tell your entire story. but start with your story now. what's going on in your heart now. then work backwards from that.
so immediately when i heard those instructions, it threw me off.
what is going on in my heart right now
, i asked myself. i answered.
i do not know
.
i often times go throughout the days not looking at areas of my heart that should be addressed. sometimes i don't even know what's going on because i am caught up in mothering. in cleaning. in planning parties. in life. in worrying. in distractions.
i also need to be honest here and say that this question caught me off guard because i like to just tell my story as it pertains to our marriage. how God has saved it...how my husband had an affair but he's redeemed it and now it's better than it's ever been. but i can hide in that and not tell you what's going on in my heart NOW. my life doesn't revolve around our affair...i mean, it used to, i think. but we tell the story a lot to help others and so it's just my go-to story most of the time.
anyway, some of the girls told their story. these are normal girls who are solid in their faith...but taking time to look at the condition of their heart. and i cried with them. i was listening to their story and did not think about my own. they addressed issues of the heart and i was asking them questions. i was caught up in their stories and learning more about them. tears rolling down my cheeks.
and i had no idea what i would say. i know that i am a verbalizer and so i thought,
what in the hell is going to come out of my mouth. it will be filterless. shit. am i going to be embarrassed of myself for saying too much? what am i going to even say here.
in that moment, i felt like i was losing control and it made me very uncomfortable.
it came to my turn. i was silent first. then i repeated the question out loud. like i was in a spelling bee or something. yes, exactly like that including how nervous they look and how you can see their brain turning just from looking in their eyes.
what is going on in my heart right now?
well. i am having a hard time with lila not being "normal". i want to control her. i want to google enough checklists at night before bed to make sure she's not autistic. i want her to talk faster than she does and develop faster. and yet, she does not. and so i set up more appointments and i think that if i do enough, she'll be ok. and people won't think i'm a bad mom because she's not like their daughter.
i go on like this kind of babbling through tears. admitting my arrogance that i thought that i could "do it all" for lila. that i could be her savior, basically.
ok, fine...at this point i'm sobbing. i had vomited this chunk of information and i wasn't sure what it sounded like. and i couldn't be eloquent. and it's also not what is expected of me.
i know that i was invited to this group on the merit of the affair. that we had been through this trauma and we could use it to help others.but i just went A-wall on these people and talked about something entirely different. i am perplexed by my tongue and by the darkness of my heart and i, in that moment, cling to the Gospel and say
help me, Lord
.
it's my favorite prayer when i am overwhelmed. and no one is comforting me or saying, it's ok...this happens to me too. they couldn't, because we had just read these rules before the group started.
wow. no one could comfort me. (here's the rules)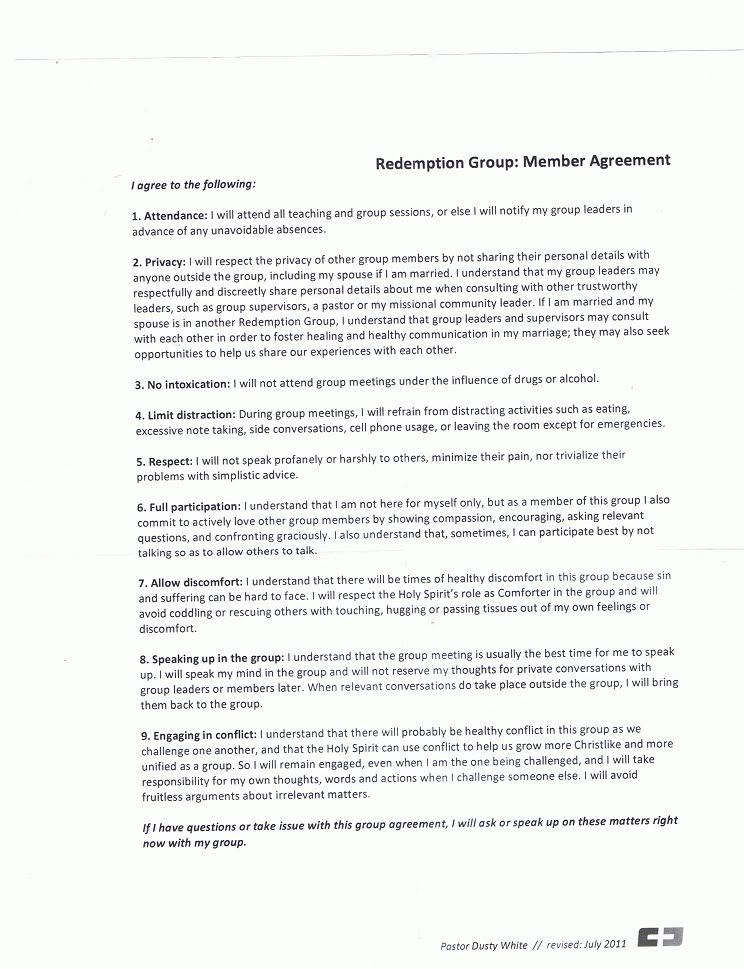 i had to sit there and be uncomfortable and feel the weight of trying to do all this stuff on my own. no distractions. 5 women just staring at me.
they began to ask me questions and dig through my mess with me for a while. one of the questions that hit me most was,
i notice that you are sarcastic in conversation...how do you think this plays into control?
damn.
well i control conversations with sarcasm and being funny. it's just worked for me growing up and into high school and into college...and into being a mom. but it's just another way of controlling something. for me at least.
the leader of the group said,
what would it look like for you if you didn't have to be sarcastic to control conversations?
and i didn't know. and it scared me because,
that's just how i am
isn't a valid excuse anymore when God's trying to work on your heart and when you are open to change. and fear of letting go of a crutch is hard.i'm thinking,
will people like me if i'm not who they expect me to be?
and really the question should be,
where does my hope lie?
where is my identity found?
if Christ will always love me despite my performance, why do i care so much what others think?
(no this probably doesn't mean i won't be sarcastic anymore...but i will ask God to help me stop using it as a control mechanism)
anyway, the weekend continued and God worked on my heart more. it was intense and fast and i knew i needed to process it or as my friend
ashley
said,
those weekend's are hard. because they are so great and so intense but if you don't take time to process it, it's like it never happened.

and i don't want it to be like it never happened. because for a moment, God had my undivided attention and he made me look at my heart and he asked me to change. i want to change my desire to control things that are not in my control and will never be. it is not for me to pretend like i can make my daughter progress the way i think she should. it is not for me to think that i am bigger than God and that i know more than Him.
it just isn't.
she is entirely in His control.
oh. huh. it doesn't all depend on me...that kinda feels great to know that.
so my favorite quote from the weekend...
At your worst, God gives his best.
you're thinking..how's does this pertain to control? it's comforting to me to know that i can be at my worst, but God's work is not contingent upon me. He always gives his best. no matter the situation. it helps me to
rest in his control.
anyway, intense huh? did i lose you in those deep thoughts? sorry, processing overload. consider it a crafternoon of the heart.
so ya, take time to let God work on your heart. what are you clinging tightly to? are there things you think you can do better than God?
surrender and repent.
--------------
winner of the dolls! ALISON BERRY. email me!
--------------------