i don't know about the title, but i was really into rhyming at that moment and i went with it. below are two recipes that i used phyllo dough in and LOVED. i think you will too.
so i made these phyllo dough chicken pot pie pockets. i know, try saying that 5 times fast. you cussed accidentally, didn't you.
i saw this idea on a cooking show, except she did this with pastry dough and i didn't have any. so i chose to use what was in my freezer and the Lord smiled upon my cheapness. because this is dee-licious. and it will be a go-to dinner for the fall and winter.
SO...here's what you need:
chicken pot pie pockets
1package of phyllo dough
1 cup of chopped carrots
1 cup of chopped celery
1 medium onion, copped
2 regular sized cloves of garlic
2 chicken breasts, boiled until cooked
3/4 cup of chicken water/stock(reserved from boiling chicken)
1 tsp (or more)dried sage
1 tsp (or more) dried thyme
salt to taste
pepper to taste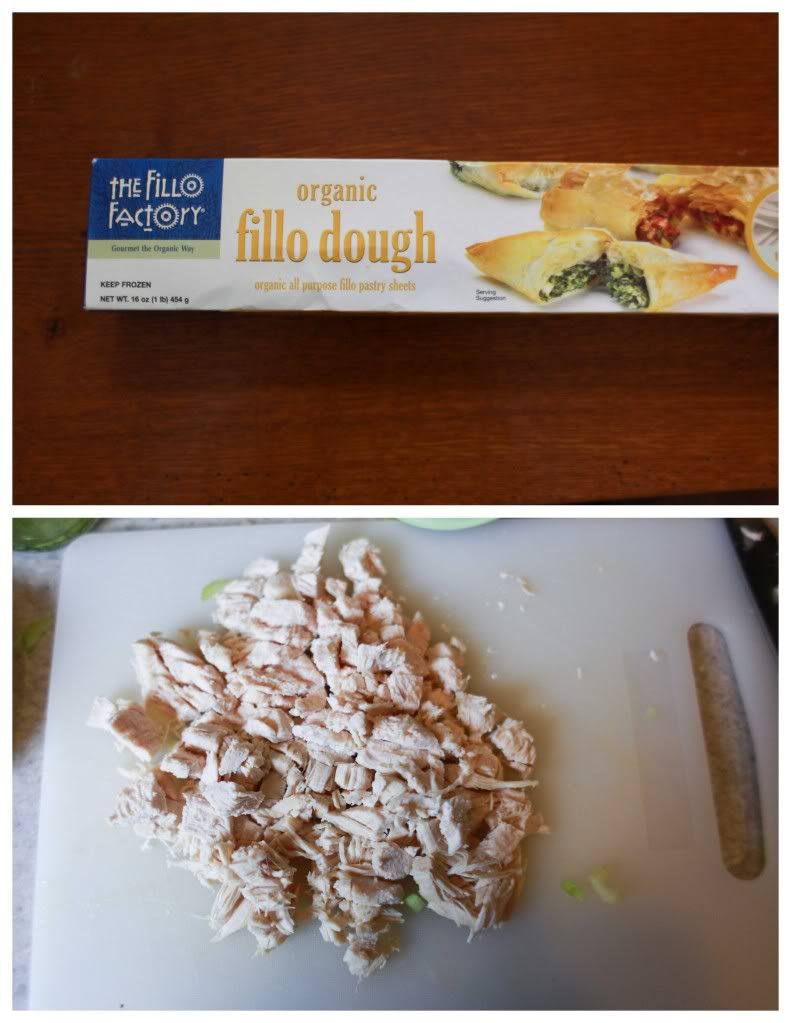 go ahead and chop up all that celery though...and just freeze. it can go in soups later in the month.
and here's what you do:
boil chicken breasts. i just halfway fill up a pan with water and sprinkle some salt in there...then throw the chicken in and let it boil for like 20 minutes.
save one cup of the water the chicken was boiling in.
in a saucepan, melt one TBSP of butter and add onions and garlic until onions are see-through and tender. i also salt this a little.
add your chopped veggies in the skillet with 3/4 cup of chicken water. throw in the seasonings...thyme, sage, salt n'peppa, and garlic.
cover and let simmer, stirring occasionally until carrots are tender.
add 1 heaping TBSP flour and stir. let simmer for a couple minutes until most of the stock is gone. you don't want this to be too runny.
ok, so working with phyllo dough can freak people out because it seems like so much work. but it's not a ton of work, it's just takes a little extra time and will be worth it.
the tricky thing is that it can dry out if you don't keep it covered when you're working with it. so just wet a towel and lay it over the part that you aren't using.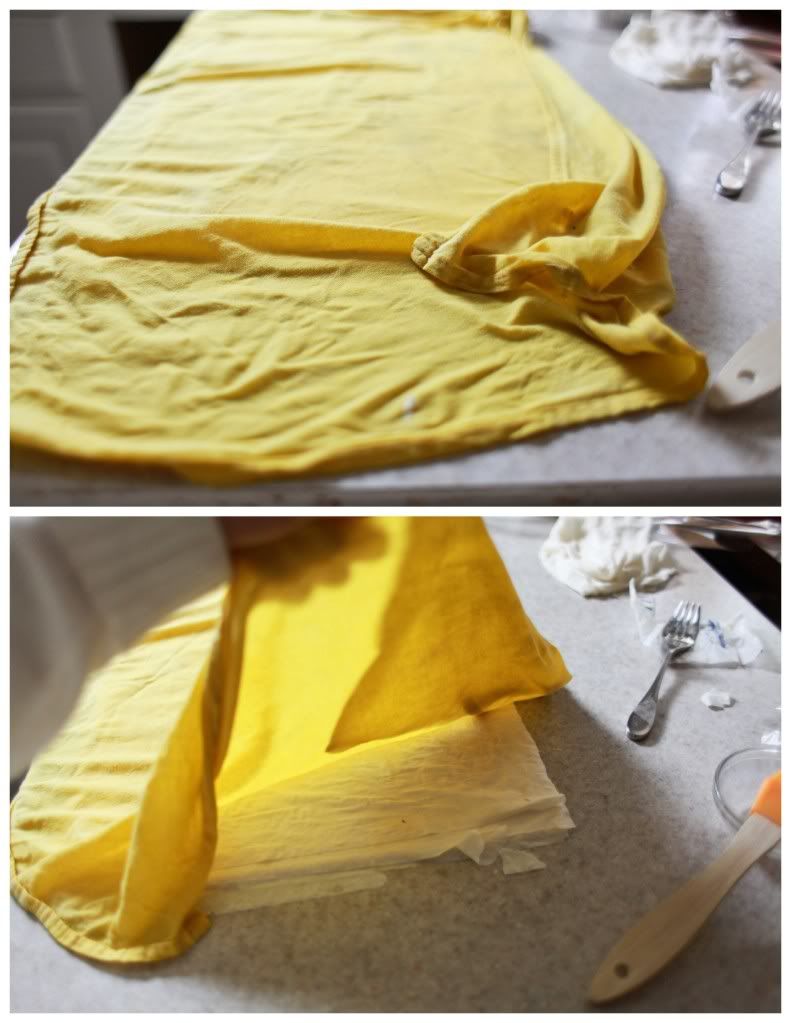 so you'll need 5 layers of the dough. separate the sheets of dough and and brush butter or oil betwixt(between...LOL) each sheet.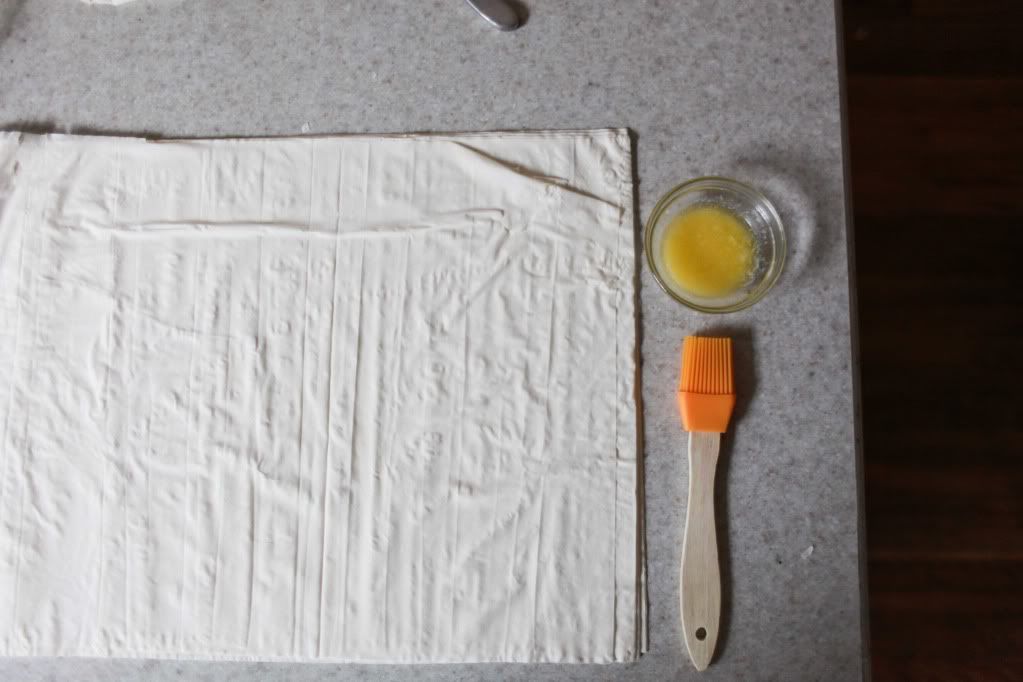 once you have all five layers down, cut the dough into fours for each pocket.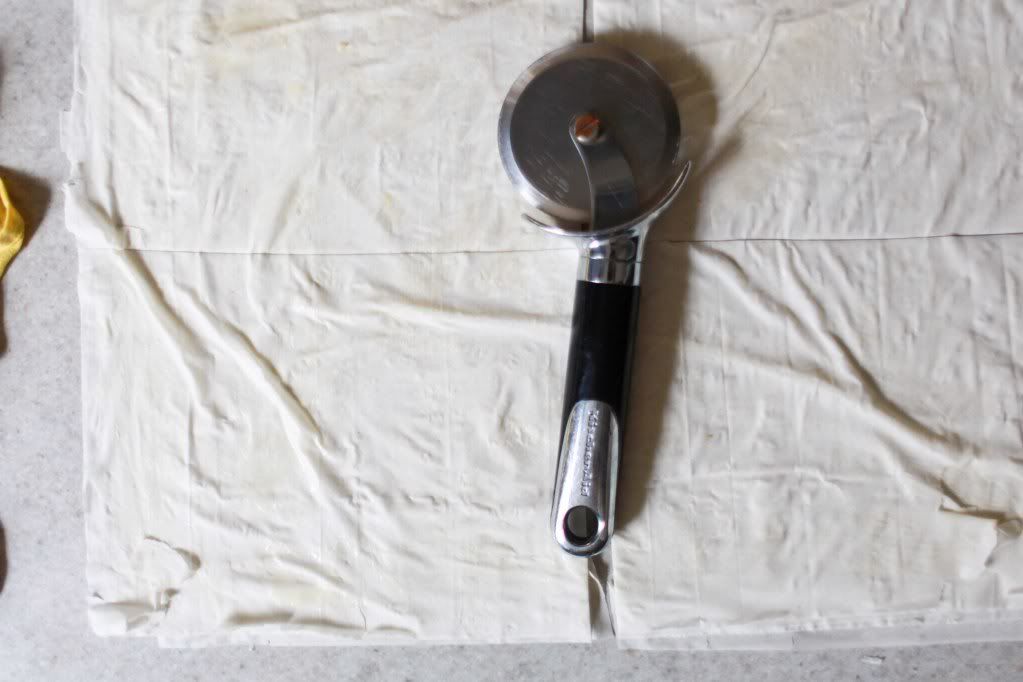 (make sure that the screw in the pizza cutter is rusty so as to add immense flavor rust shards into the dough)
in the pan, i kind of separated the veggies with the spoon so i know how much to put in each one. i'm not ever this anal about anything...but it's just what i did.
then fold the corners in to make a little pocket. i put a little butter on the ends to help it stick together better.
then bake these bad boys on 375 for 20 minutes. in the last 5 minutes, brush with butter and put back in oven.
soooooooo good!
you can see our dinner and you can see the kids dinner. ha. i did make them eat a couple of bites of the pot pie, don't worry, intranet.
then clean up the pans that your daughter took out of the cabinet. thanks, Lila!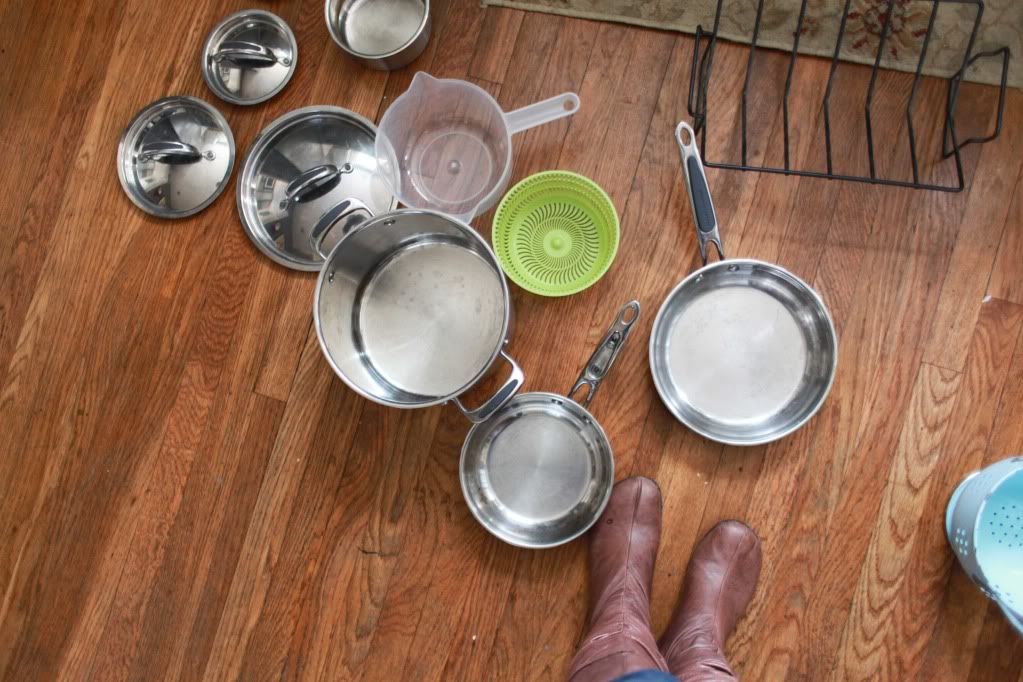 and you will have phyllo dough left over...lots...
so the next night, we had phyllo dough pizza. it was pretty simple...so the layers thing again. phyllo sheet, then butter, then phyllo sheet, then butter...etc.
except in the layers, throw in some parmesean cheese and garlic powder and salt.
i used about 12 layers for this.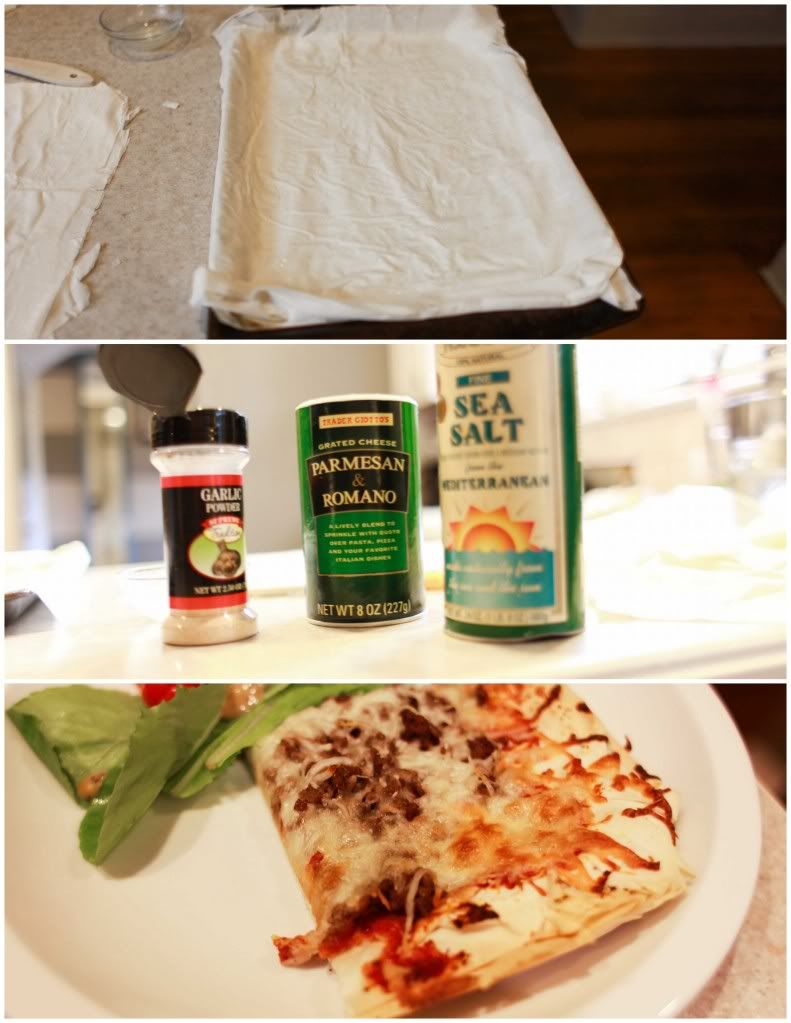 (sorry about the ugly photos here...i took the pictures at night because, hello, i'm making dinner)
you then just fold over the corners. butter or oil will help it stick down.
then add your sauce and cheese and bake at 400 degrees.
it was so delicious! nato was raving about it all night. i think cut into small pieces, this would make a great appetizer as well. or make them as pockets like the pot pie, but with pizza. yum.
alright, go make dinner!