i've been thinking about mothering. like a lot because that's all i do. i haven't been crafting...i mean, i'd blog that. hello. i haven't been baking as much. and when i do, satan smiles upon me.
i.e.
dastardly brownie cookies
.
here's what i have been doing: i have been up every three hours feeding baby, burping baby, begging baby to sleep through the dang night. but like i said, she's rude and won't.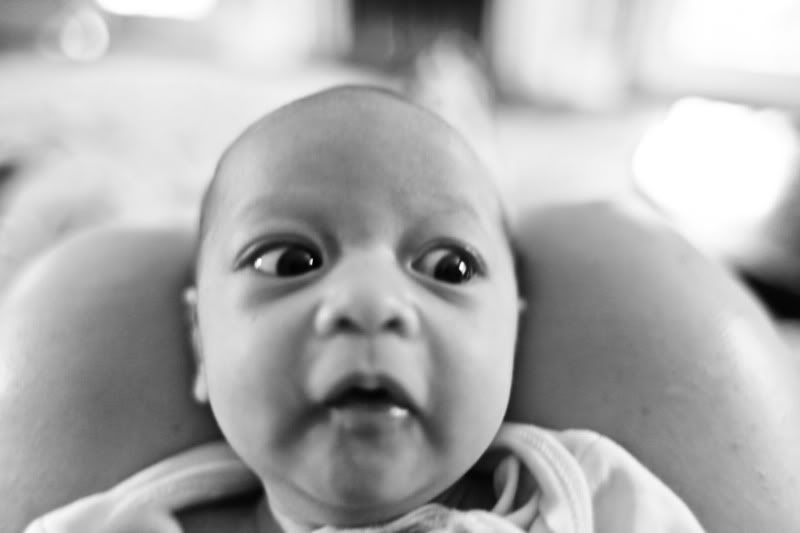 (i title this picture:

turtle out of her shell

)

so i don't sleep at night and then i don't get to nap during the day because of the other chitlins'. and also because, major SIDE NOTE, we're doing construction on our attic to turn it into a freakin' awesome space. hammers. saws. men yelling. no napping.

oh and i got strep. probably because i don't sleep, no?

what. the. H is going on?

well sometimes i think God brings us to the bottom so we will look up and ask for help.you know, because although sometimes it feels like we have it all together, we don't. we need help. so in this haze of all-encompassing mommy-ness and exhaustion, i have had to ask God for help. and it seems as though He is waking me up spiritually with something has been rolling around in my head

lately.

i was at a church group for women and we were discussing how it was important to have someone mentoring you. kind of telling you the truth about yourself, encouraging you as a mom and wife, walking you through issues with your kids. stuff like that. the speaker said we should be mentored by someone older and wiser than us.

yes, agreed. sign me up

. i made some phone calls and got me a mentor! bam.

and in that same vein, she continued saying, we should be mentoring someone younger than us. in my head i'm like,

what? i really don't have time for that right now.

and then she said,

if you have kids

,

that's who you're primarily mentoring/discipling right now

.

oh. oh ya. my kids...my every-day-monkey-like companions. the ones that watch me all day. and talk with me all day. and listen to me all day. OH YA.

it made me think of how mothers have so much influence on their children. i believe no one has quite the impact on their spiritual lives... especially if you have littles and you are at home all day with them.this is a great responsibility and i've been feeling the weight of this thought.

a gentle nudge towards a more intentional, thoughtful consideration of my children's spiritual lives...instead of being on cruise control. i am reminded of a statistic by

george barna

that says,

a person's moral foundations are generally in place by the time they reach age 9 and

A child's spiritual identity is largely set by age 13.




i don't want to parent by default. this intentionality has gotten away from me. in just the craziness and busyness of everyday, it's gotten away from me and i am going to be better this year. i have to. otherwise, someone else will shape their lives. like calliou on PBS. noooooooooooooooo! is that why layne whines so much? yes. i will blame it on calliou.

what are you mothers doing out there to invest in the spiritual lives of your children. like thoughtful, intentional things you do regularly? tell all.

i will compile a list of the top 10 or 20 and post them sometime next week.

although i've been a slacker, one thing that i have done intentionally is in the music area. i got the kids each their own CD player that plays

seeds of worship music

during rest time in the afternoon and before bed. it's just straight up scripture set to music and it is awesome. i have even memorized these verses! it works.