man, real life has just been happening these past couple months. i have crafts i want to share and some recipes too. maybe if i blogged more than once a week, that would help. hmm, what a concept.
so i have a confession to make. no it's not that one time at the chiropractor's office, when i was taking my shirt off for the x-ray, i noticed that i had super disgusting B to the O. so i was like, OMG, i can't let them come near me, they'll think i don't shower...every other day. so in a frantic, super quick moment, i saw some hand sanitizer and slathered it under my arms. just in time. and boy did that take care of any bacteria under my armpits. although, i could hardly hear what the chiropractor was saying to me because my underarms were burning like the fiery bowels of hell. but whatever, problem solved.
no, that's not what i want to confess. i want to confess that i hate it when moms say they feel guilty about stuff. i've always been super grace based in my approach to parenting...we all mess up and there's no need beating ourselves up for it. right? well, this week, i felt guilty (i enjoy eating my words, really, i do). the guiltiest i've ever felt as a parent. this was not the i-yelled-at-you-too-harshly-and-now-i-need-to-apologize-to-my-4-year-old kind of guilt. way worse.
you guys know lila, my 2 year old, doesn't talk really. she says like 4 words. really. so i've always thought something was up with her. everytime i take her to the pediatrician(which is not often), i ask them to especially look in her ears.
she doesn't talk. she walked really late. she has lots of drainage in there.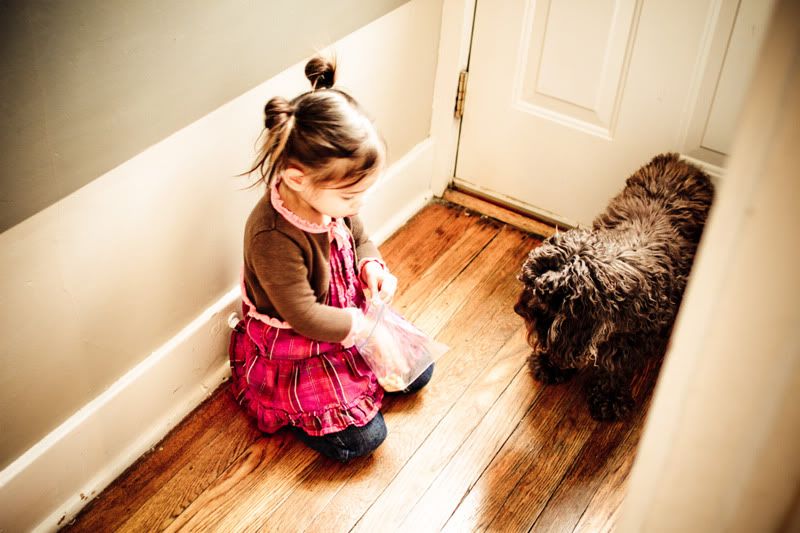 (lila's favorite pastime: feeding her bestie...huxley)
but ever
y
one says she's normal. that her older brother talks for her. that we baby her. these things are definately true. she did some speech therapy and really responded to it even! but at 2 and 1/2, i decided enough was enough. i found an ENT and took my sweet platypus in to have her hearing checked.
and guess what? lila can't hear. not like she's deaf, but apparently, she hears like you're talking to her under water(if that). when they looked in her ears, the ENT called her ear drums impressive. in a bad way. she said any doctor should have seen her abnormal eardrums at 6 months even. so i'm hearing all this in the appointment and i'm doing my best not to cry. but c'mon, i'm pregnant. this "holding back" can only last 1.3 seconds. i said,
she follows instructions and she says some words when i ask her to...
the doctor said,
deaf kids follow instructions too...
and that's when this mama felt all kinds of GUILT and lost it. tears were a'flowing.
she has a surgery scheduled for thursday...it's an easy fix. a 5 minute surgery and they said she'll be talking up a storm soon.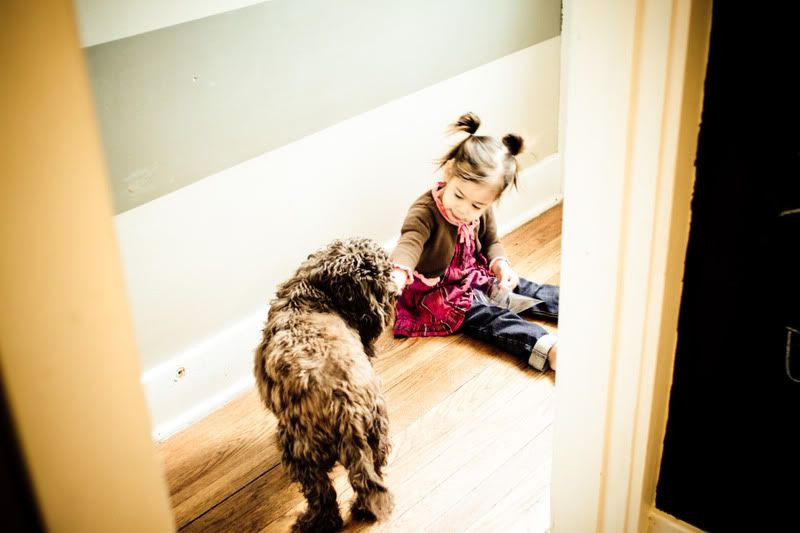 (the dog follows her everywhere. the have their own language the speak to one-another)
the rest of that day, it was all i could think about.
why didn't i take her in sooner? she's going to be delayed now...what mother lets it go this long
? ugg, i could just cry writing that. hormone alert.
later that day, it was just nato and me driving home. the kids were at the grandaparents(date night!). here is the conversation that may or may not have happened(it did, ok? but it's embarrassing).
me:
i need some ice cream after all of that.
husband
: you don't want to wait until tonight since we're going out?
me:
babe, if i ask for ice cream, just get me ice cream. i mean, geez.
husband:
ohhhhhhkaaaaaayyyy.
me
: if you're going to eat some, get the large one, if you're not, get the smaller one.
(in "smaller one" i'm referencing the regular size that we normally get that is still abnormally large).
nato comes back with a mini-concrete. something you would give a child...not a prego lady, mkay?
me:
oh.oh. ohkay, ya, so i'm fat? way to let me know...that was subtle nato
. (i'm totally serious when i'm saying this).
husband:
babe, you said you wanted a small!
(he's looking at me like i'm crazy and is about to laugh)
me:
i didn't know they even made a small...i thought you would get me the normal one.
husband
:
well honey, i'm sorry, i really thought you said small. i don't think you're fat...
now i'm crying. kind of snorting, crying. because that's what happens when you're eating ice cream and crying at the same time.
we fight about the size of icecream for about 5 more minutes. how he probably got ripped off, even.
and then i say,
it's not even about ice cream...i'm so upset about lila...
blaaaa....more crying....in between bites. somehow the butterfinger in the ice cream was making life feel not so bad.
enter left, sweet consoling husband telling me it's not my fault...
so ya, whew! is everyone sick of the roller coaster known as jami nato pregnant? i sure am.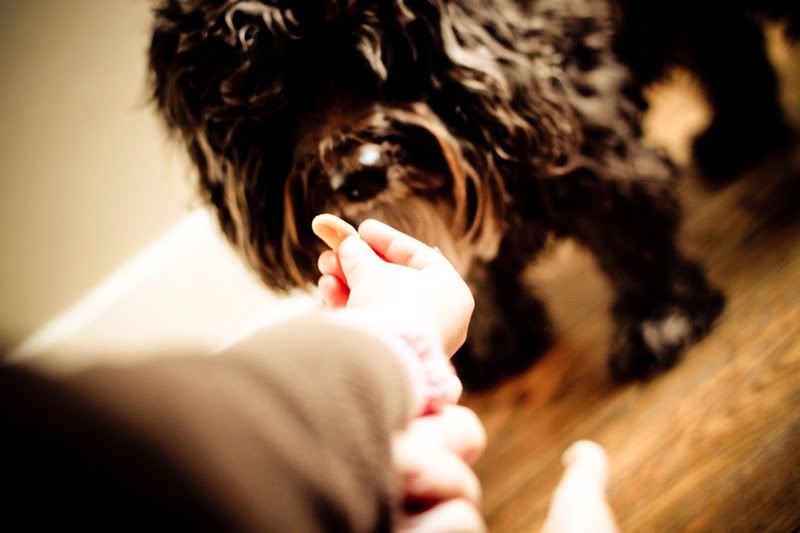 (dogs can eat peanuts right? our dog also eats chocolate and raisins...i've heard both could kill her?)
anyway, this week, after working through my guilt and bringing it to the Lord. i'm going to take my mother's advice.
all you can do is move forward. there is nothing you can do about the past. she will be great...she's a smart chicken
. (this is a text, btDubs...we are a modern mother/daughter)
my sis said the same thing. my husband did too(like a million times). when everyone tells you the same thing, you should listen.
God is bigger than her hearing issues.
God is bigger than my guilt.
and He is definitely bigger than my hormones.
PTLOH(try and figure it out).
...happier posts to come soon! hang in there with me...