i never grew up celebrating halloween. it was called "satan's holiday" around my house...we couldn't participate in such a thing as animal sacrificing and drinking blood. that's what you all did, right? no? hmmm, i might have been misinformed.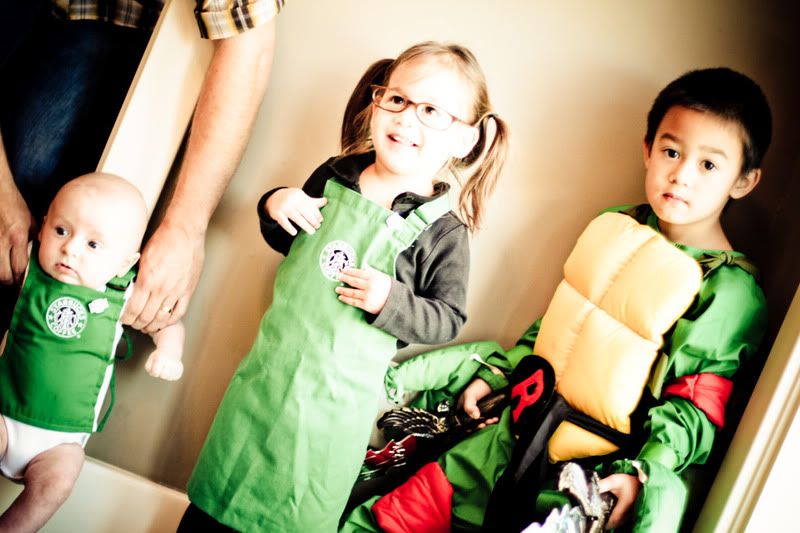 so when i was little, we went to this "Lord of the harvest" carnival that night instead. it was basically a bunch of christians pretending not to celebrate halloween. which makes me laugh. because we were. anyway, when i had kids of my own, i couldn't resist the costumes and the hub-bub of it all. i don't particularly enjoy witch/demon outfits and gory costumes...i don't see the cuteness-factor in those things, but all the other stuff is really fun and frankly, gives me an opportunity to eat my kids chocolate candies they bring home. the whole time i'm out there with the kids i'm thinking...
i know you're tired, buddy...but
one more house. just one more house layne. you can do this...they have snickers at the next one. i can smell it!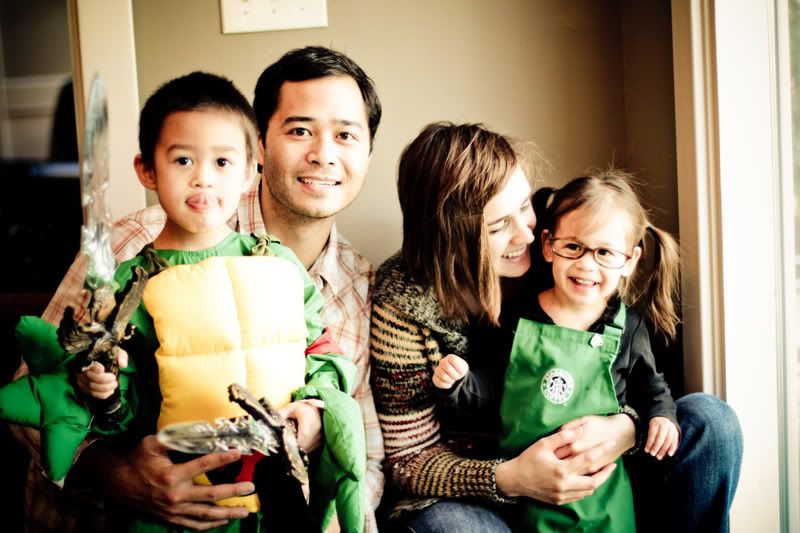 but honestly, the one thing i really, really dislike about halloween are the adults that go door to door with their kids... with bags...not dressed up even...just collecting candy. that's not cool. i want to throw a sucker at your face because i'm hormonal, but instead i smile and say,
oh look at you...trick-or-treating too. fun.
but i say that in a not-so-fun monotone way. slightly passive aggressive, but mostly sarcastic. i'll pray about it.
so this year, lila was a barista with her cousin george, who was a baristo(pronounced buh-ree-stow). i made that up because "barista" sounds too girly.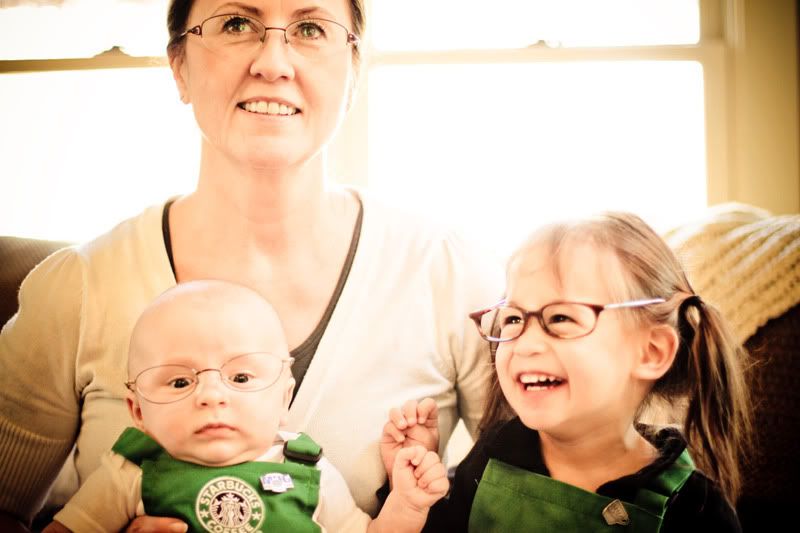 we put fake glasses on them and everything(because everyone at starbucks has trendy glasses). my sis made the aprons from her old gear when she used to work there. they even had flare on them...a mug award.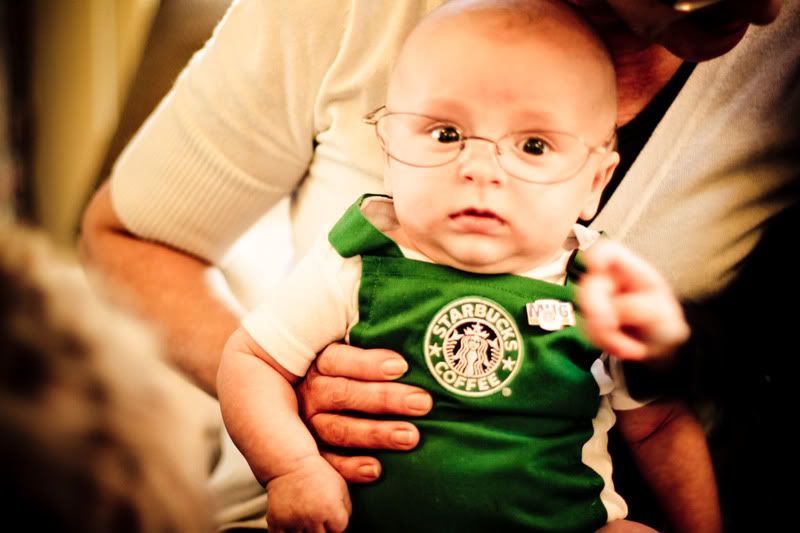 (BTdub, this is my mom who never let us dress up but now secretly loves when we bring our kids over in costume and also hands out FULL size candybars to all the neighborhood kids on halloween. hmmm.)
and layne was a ninja turtle yet again this year. last year, his costume was a
jimmy-rigged version
.
but this year he was a LEGIT Raphael. my hubby's coworker had a son(who is now my husbands age) who wore this when he was little. handmade and everything. can you tell that layne hated the head part? he's all about comfort...much like his mother. so of course i only made him wear it for pictures.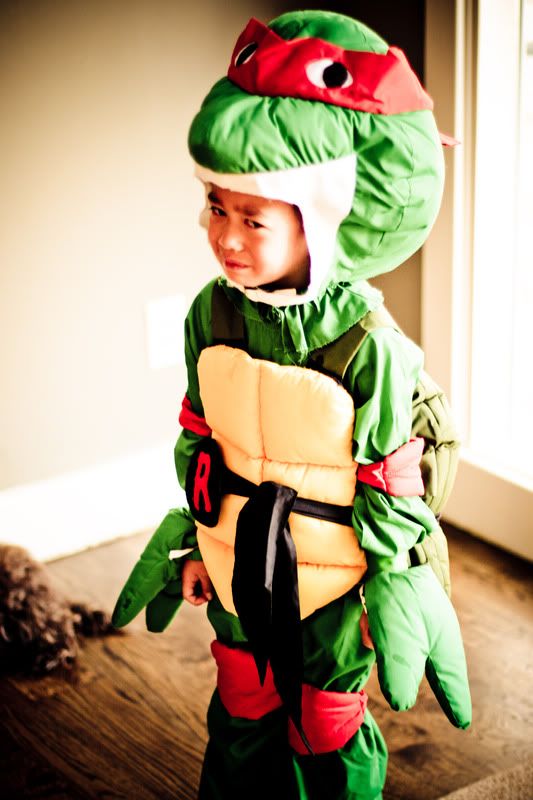 overall, besides a couple hundred meltdowns, we had a fun sweet treats day.
we never said trick-or-treat, but instead chose "sweet treats please". again, passive aggressively pretending that we're not celebrating "halloween". just go with it.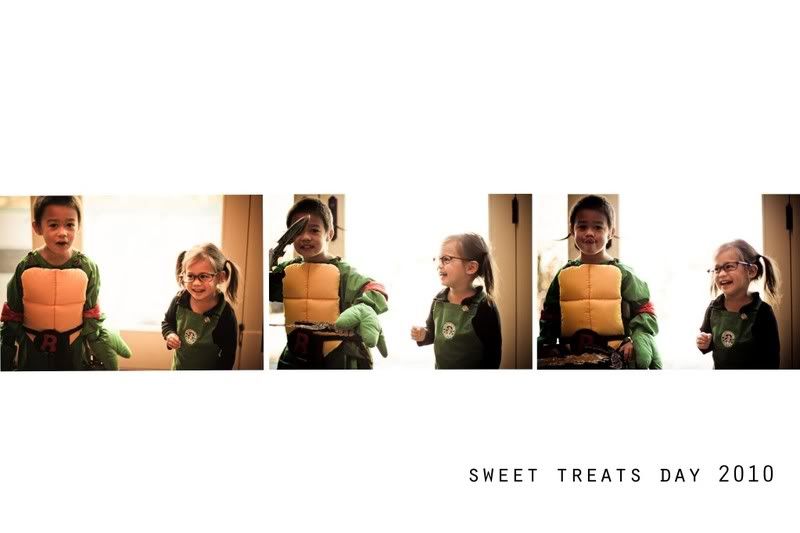 and random side note because
I LOVE DEALS
: 6 movie tickets for $30 on the seattle groupon today. you don't have to be from seattle to get the deal! these are redeemable at movietickets.com which services most theaters nationwide.(AMC, dickenson...etc). it even works for IMAX. cheapola...
go HERE
for the deal.