before you even go off on me for talking about christmas this early, i would like to say a couple things:
1) there are worse things to get mad at people for celebrating, friends. why are we mad that people are excited about good cheer, giving, and the birth of Jesus a couple of weeks early than normal? trust me, people will not forget to celebrate thanksgiving, just because they are celebrating christmas a smidge early.
2)let's talk about preparedness. this is not my spiritual gift. BUT, we all complain about how crazy the holidays get, yet we do the same thing year after year: waiting until the day after thanksgiving to start making christmas cards, buying gifts, decorating the house...etc. i say, no...i'm not doing this again. i'm going to enjoy the season and not feel more rushed and frantic than i have to. i don't want my kids to get the idea that christmas comes right along side mom being a nut-job for a month.
3) also, christmas is in a month and a week or so. ya... soooo, booya. jump on the christmas cheer train.
moving on...this year, i am doing my decor in an understated style. i do love color...and color can be added to any of this decor easily. feel free to mix in your typical decor with any of these pieces. i am doing lots of shimmer-ee golds, silvers, bronzes all together with book paper. it'll all go together magically.
i think i have 5 or 6 crafts to share that involve book paper. so hang tight over the next couple weeks.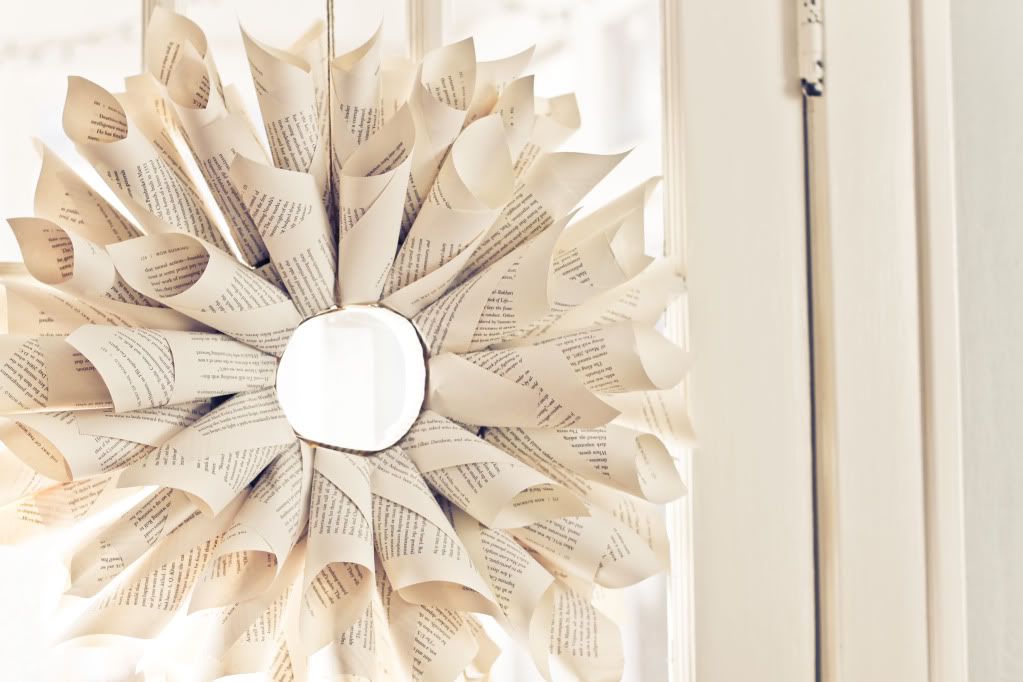 so welcome to my first christmas crafternoon session:
Paper Cone Wreath:
ingredients: (all from the dollar store)
a thick book
a foam circle
a hot glue gun
directionals:
1)tear out some book paper and make into a cone. glue the corner of the cone down.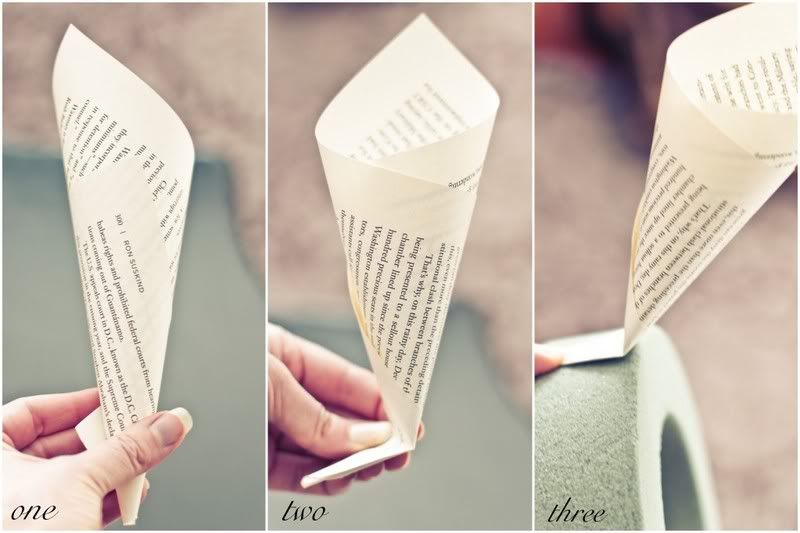 2)fold the bottom of the cone, like an inch.
3) glue cone onto the foam wring.
4)make another cone and put on the opposite side of the cone you just made. do this over and over again until you cover the whole top of the foam.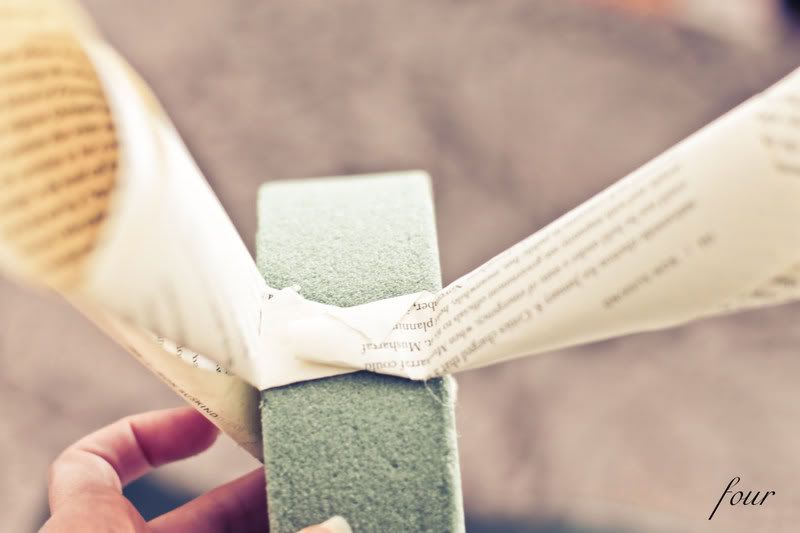 5)now we'll cover the front of the foam. for this, you still make the cones, except you fold them a little further up...almost halfway. place that bended part on the inside of the foam wreath and let it come up over the front of the foam. glue it all down.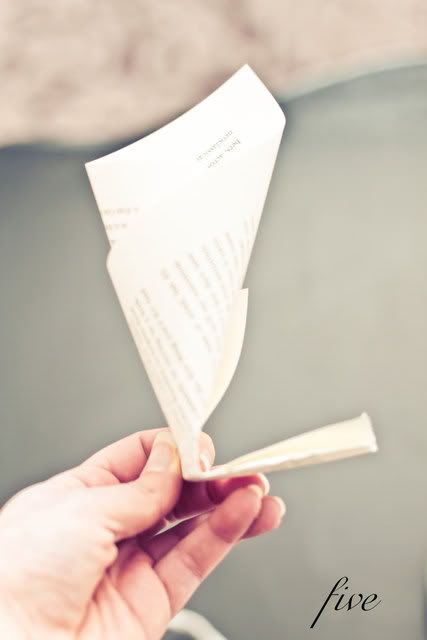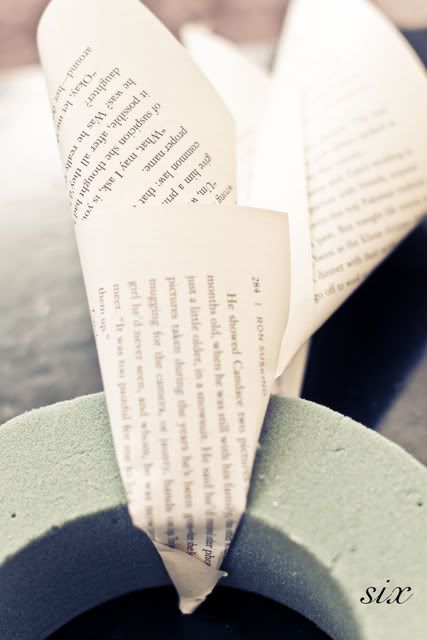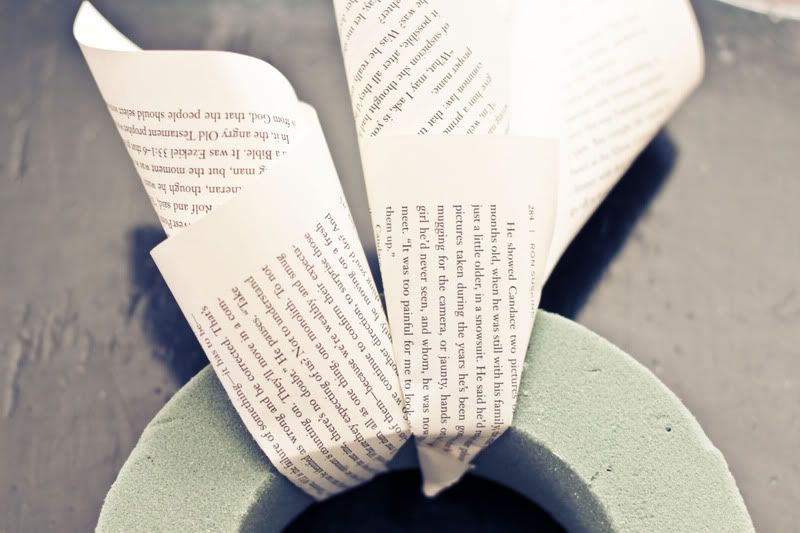 (fyi, i got lazy and didn't do my whole top part of the wreath...so imagine that it's done)
then just keep making more cones until the front is covered.
6) to cover the inside, i just folded some paper into a rectangle and glued it in the inside.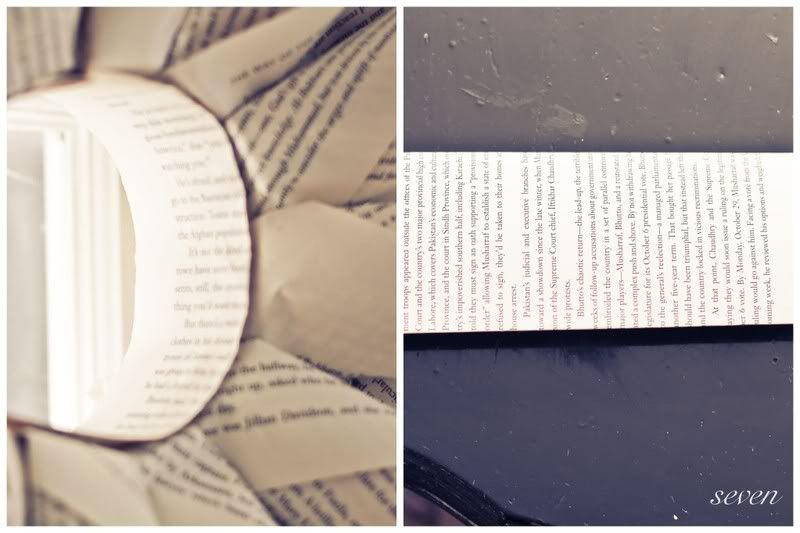 7)tie a ribbon around it to hang!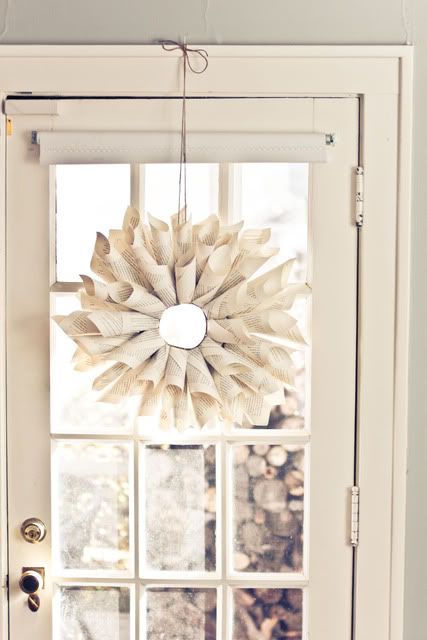 love this. and it only cost $2.