my grandpa carle died in the early morning hours today. it was expected...he had been on a downward spiral healthwise for 6 months and towards the end, he was a shell of a man that no longer talked, or ate, or wanted to live.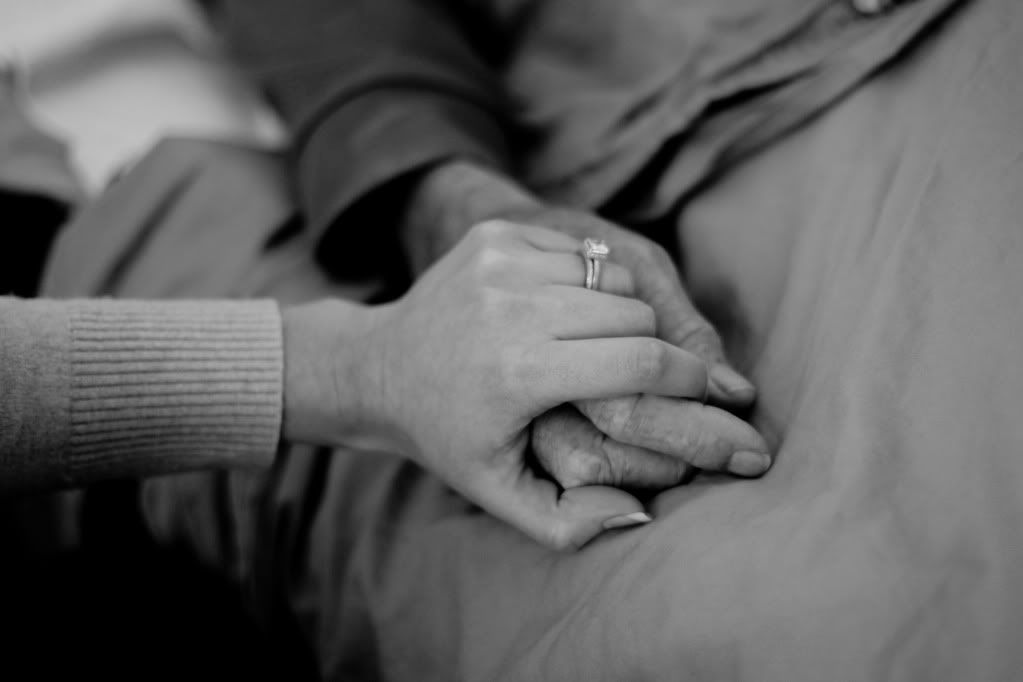 (my hand with grandpa's hand)
but whether we expected it or not, death is a difficult concept to grasp.i write this trying to understand why we can't all die swiftly and painlessly...quietly in our beds...happy and ready. how many times have i prayed this week that if i lose my mind and can't function in my old age, that the Lord would just take me away instead of lingering around miserably between two worlds.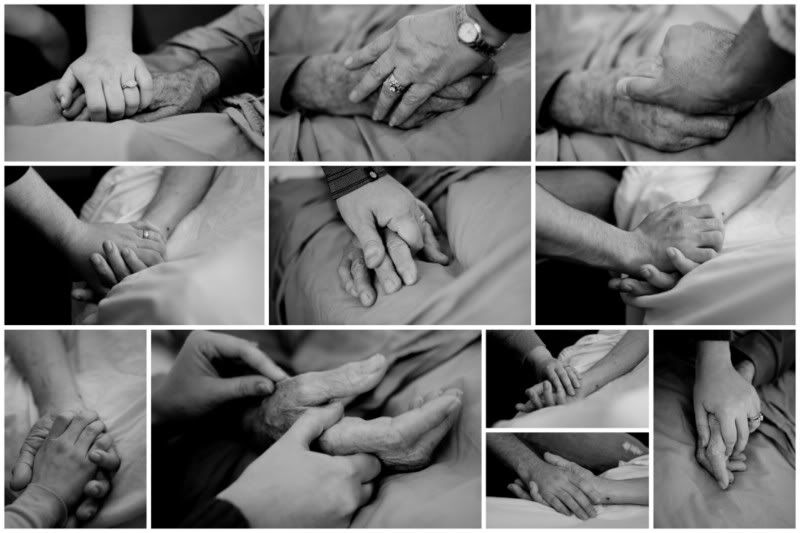 (family members hands with granpa's hand)
all this is sad. and the grief process is settling in. i go back and forth between celebrating my hilarious and irreverent grandfather and thinking that his life, and my life will and every one's will be forgotten someday...regardless of how awesome any of us were. after 2 generations or so, generally, there isn't much known about the life of relatives. unless they were famous in history, i guess. this thought seems depressing, but actually, shifts my eyes away from worthless things. this life and the things in it are fleeting. praise Jesus that there is hope for life we have after death.
(i don't mean to say that life is completely meaningless. it's not. i'm just sharing my thoughts...fresh from grief.)
anyway, as i say all of life is pointless... there are some pretty awesomely "pointless" things you should know about my grandpa:
he was a guard at the white house for president roosevelt.
he was in a western movie with william holden(a famous actor back then).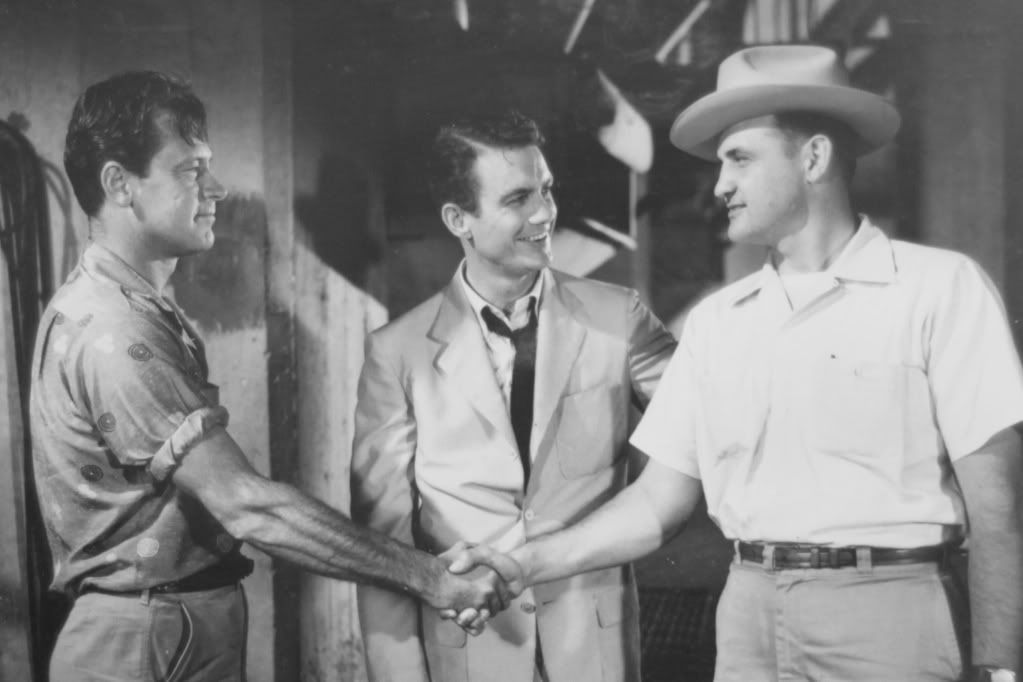 (that's grandpa on the right)
he served our country in the military(a shooter in a fighter plane)...and a lot of stories i can't put on this blog because they involve lots of women...wink wink. who's grandpa tells them things like this?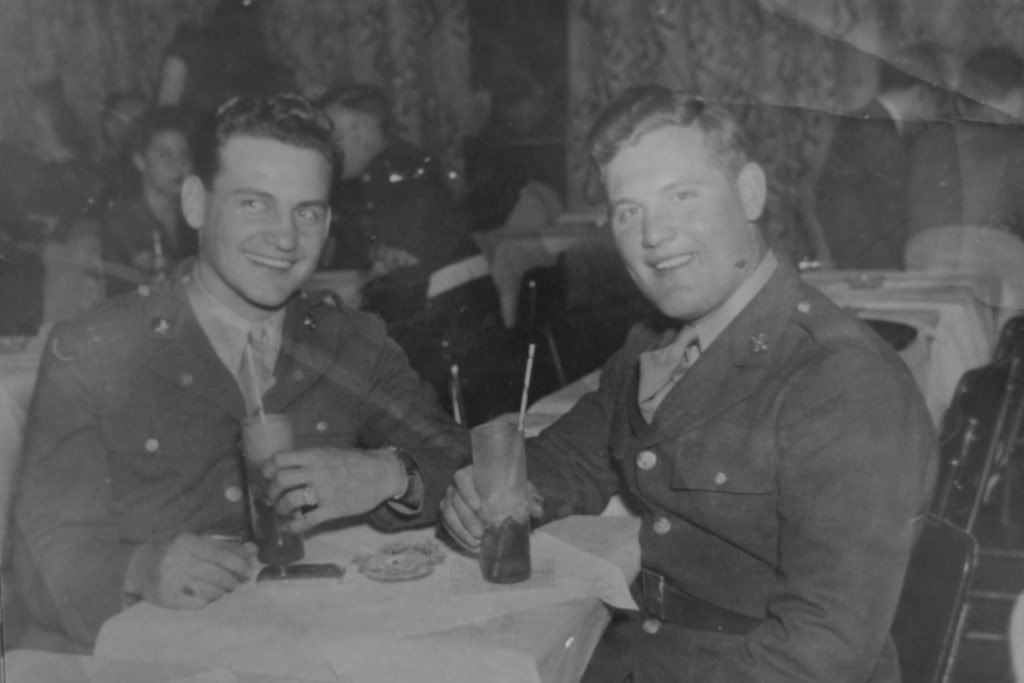 that's him on the left. what a ham-bone.
speaking of, my fondest memory of my grandpa was when he came to church with us...wearing a large VIAGRA pen on his shirt. smirking the whole time. the other memory i love of my grandpa is when he gave layne a purple crown royal liquor bag full of change... when he was 2. that's just funny.
he often lived in a tree and ate snakes for nourishment. this one isn't true, but it's what i overheard him telling my siblings when they were young. you've seen the movie "big fish"...this is the story of my grandpa.maybe that's why "big fish" is in my top 5 favorite movies.
-----
i wouldn't call myself particularly close to my grandfather, but there is something to be said for seeing someone at almost every christmas, thanksgiving, easter, and birthday party. of course, then the random occasions or dinners-- where he told stories (true and untrue) for hours if you gave him the chance. and you always gave him the chance. i will say that it's harder to watch my father grieve the loss of his father.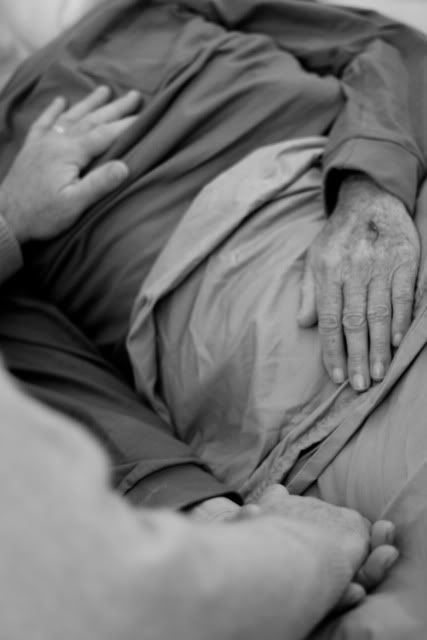 it makes me face that one day, it will be me saying goodbye to my dad. and that is the worst part of the sting.
i'm glad layne and lila got to meet him. they won't remember, but alas! i have pictures! again, the importance of documenting your lives with pictures and stories couldn't be more important in times like these.
memories get lost in the business of life. so i'm documenting my thoughts and feelings today, so it is set in stone. or on paper. same thing. either way, grandpa would have enjoyed this i think.