and the winner of the giveaway for 2 yards of fabric and burpcloths is....
MOMDIGGITY! no doubt...(i was singing the song,
nodiggity....no doubt
. get it?). i'll get this stuff to you ASAP.
moving on, i read this advice in a section of
parents magazine
(november 2010)a couple days ago and it truly pissed me off. see what you think.(and fyi, SAHD means
stay at home dad
)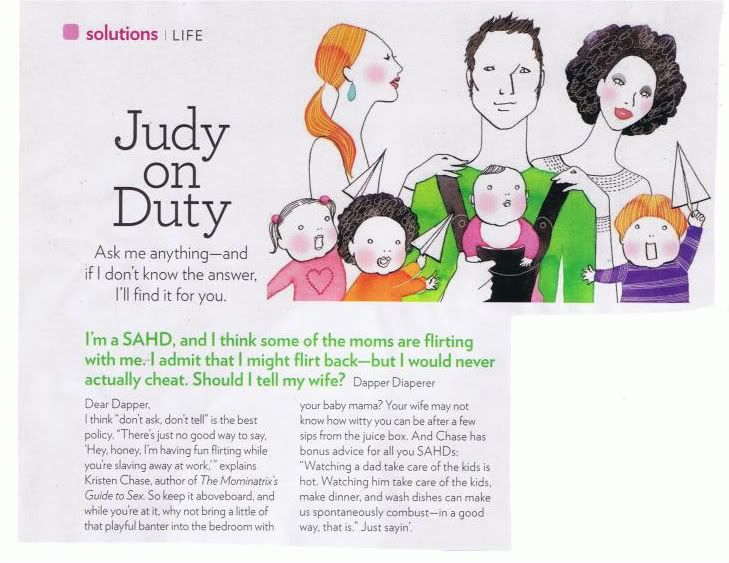 i just have so many bones to pick with this article. first, the picture. women clammering over this stay at home dad who is giving his affections away to other women. ya, NO. BLAAAA! i just threw up on all of them.
second, how the hell does this stay at home dad know he "would never actually cheat"? few are the people who knew their flirting would get them into trouble. anyway, how does he think affairs start? you're asking a mom if she has a wipe you can borrow and then you're having sex with her? no, it starts with little things like flirting,
dumb-ass(
that was mean, i shouldn't have called him that. sorry everyone). actually, it starts with a jacked up heart that thinks it's ok to flirt with someone you're not in a relationship with. can you tell this pisses me off? ha, i was trying not to be so obvious.
annnnnnnnnnd another thing...the columnist gives the husband advice
not
to tell his wife that he ENJOYS flirting with other woman. who in turn, LOVE flirting with him. hmmm, reciprocal flirting...where could this lead? call me a sarcastic smarty pants, but that sounds dangerous. then judy gives advice to turn this flirting towards his wife "in the bedroom". which kind of sounds ok...in a way... but really, is not. this guy is going to bring his dysfunction right into their home without being honest about what he did "on the playground" that day. that is not my idea of intimacy. and BTdub, 20 bucks says he aint thinkin' about you, sister, when ya'll are intimate. just sayin.
i wish judy would have asked this guy to think about whether he would like to know if his wife was flirting at the workplace. um, simple answer. you bet he would want to know. you bet there would be a discussion about that behavior ASAP. you bet that would hurt his feelings and anger him. why? because it's wrong.
there is a reason affairs are so prevalent in our society. we are bombarded with images of infidelity in almost every sitcom, movie, joke, and advertisement. then, knit-wits like judy (who are trusted advisers)give advice condoning budding infidelity. oh my gross.
call me passionate about this subject, but i've seen
what infidelity does to a family
. although it looks fun and harmless, it is the ugliest act of betrayal you can put your spouse through. it scars children and families, and creates a hideous legacy for your sons and daughters. it breaks spirits and breaks relationships, and most of all, it breaks God's heart. he made marriage for a reason. a great reason. and the reason is not to "harmlessly" give your affections to other people. it's just ridiculous.
i encourage all of you to seek out where your affections are outside of your marriage. if you are flirting with someone at your work place, at the park, at the coffee shop, with your neighbor...stop it. it's going to harm you in ways you can't imagine. one better, tell your spouse and repent. if you can't be honest in your marriage, something is wrong. get into counseling ASAP. make an effort to make your marriage work. honor your spouse with honesty, not secrets.
this concludes my rant on ridiculous articles i read in magazines.
carry on.