ok so my computer that i do all my picture editing and loading on has gone koo-koo. so this post won't be all frilled up. but i feel like i still need to blog, even though i can't do it like i normally would. this is good for me. it reminds me that blogging isn't about show and tell, as much as it is about marking down memories and telling our story.
speaking of memories, you all remember
the mess
we've gone through a couple years ago? even though our marriage is stronger than it's ever been, there are still things about that mess that will stay with me forever. i don't mean to sound gloomy. these memories don't define me, they don't rule my life, they are just there. because we're human and we mess up. there are choices we make that can't be taken back.
i'll be more specific. a long time ago, nato came home with an expensive fossil watch. it was around the holidays. he made up this story about how "so and so" gave it to him because "so and so" got it for christmas and he just didn't like it.
wow, i thought, that's not really your style but it is really cool that it's free. people are so wasteful...
and hello, you all know how much i love free things and bargains. so i took his word for it.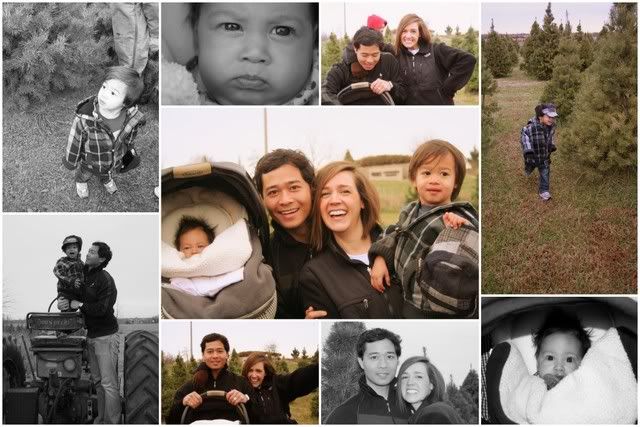 these pics are right before the sh*t hit the fan(you can actually see the watch. OMG...i just noticed that.)
for two years, my husband wore that watch every day. it was a part of him. you know, when people wear something everyday, you tend to mentally affix that article in your memory as another appendage of them. i can still remember my dad's watch growing up. it glowed at night and i loved it. i would even play with it while sitting in church...from sheer boredom. my dad's watch is in my brain forever.
so back to the story, fast forward to around two years after my husband received the watch and this is when our marriage began to crumble. i found out my husband had an affair. actually, he had two. one towards the beginning of our marriage and the other farther into our marriage. so picture total DEVASTATION in our lives when all this came to the surface. we were then separated for a couple months. at that time, he decided he wanted to make it work and he came out with everything. and part of that "everything" was telling me that the watch was from the first woman. and that on his way home from work, he gave it to a homeless man on the side of the road. he obviously didn't want that reminder of sin around his wrist.
i was so angry with him. anger is not the word, actually. betrayed is the word. de-valued, crushed, total loss of which way is up or down. yes, those are the words. he had worn that watch around for two years and i looked at it every day. it was like a slap in the face...with a soccer ball...on a cold day(that's the worst, just sayin'.). how bold he was in his sin! but more than that, i felt so stupid. was everything a lie? i mean, how did i believe that story about where the watch came from and how did i not just sense it was from another woman? it haunted me for a long time. even when we were back together and i forgave him for everything. the watch thing was difficult to bear.
like that first christmas we were back together. the only thing he asked for was a watch. what did i get him? everything else i could find BUT a watch. a couple days after christmas, he was joking with me and said,
babe, all i wanted was a watch and you got me a million other things...haha!
but guess who wasn't laughing and instead, stormed off crying? ya, me. i had to explain to him that it was hard for me to even look at the watches. i went into the watch section, but left promptly. emotionally, it was too difficult. i think i even cried in the store.
for this last father's day, i found one of his old watches and put a battery in it. i knew he wanted a new watch, but again...i couldn't bring myself to do it. i remember when i gave him that gift. he looked at his old watch kind of confused like...
oh. OH, ok...ya, i love it!...thanks, babe.
we didn't talk about it. he knew i wasn't ready yet.
our 5th anniversary is the 23rd of this month and his 30th birthday is the 29th. it all seemed fitting that i would buy him a freakin' watch. and when i was reading real simple this month, i saw IT. well, i think it's the women's version...but i saw this cheap and glorious watch from target(praise the Lord) and i wanted to buy something like that for nato. i couldn't wait. i went the next day.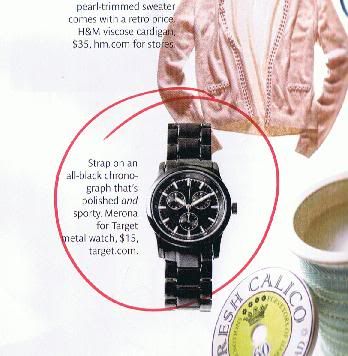 it was cheap and it was beautiful. an expensive watch wouldn't be something i would buy nato. this watch had my name all over it. that's right MY NAME, not anyone else's. and he'll have it forever, i mean, until it breaks. but for $15, i can get him another one. from me. get it? ME.
i love seeing it on his wrist. i love where we're at in our marriage. i know this is a marker in the road and it feels good.
mark nato, you are an exceptional man. you have made it clear that you are in this family forever. you honor God with your decisions and you honor me. i love you more everyday. plus you are also extremely good looking and talented...so it makes it easier i guess. but nonetheless, i would choose to marry no one else...even after everything we've been through. it's all been worth the pain and heartache. God has redeemed our mess. i love you.
and p.s. these things are indeed somewhat painful to write down. they are hard for nato to read and hard to know that people will know this about him and us. but i don't say any of this to throw my husband under the bus. my hope is that people are encouraged when they read our story and that Christ is glorified in our weakness. we are all
that
sinful. we all lie. we all mess up. we all do very hurtful things to one another. and that is why WE. NEED. JESUS.