there are those days when a mother wonders how she's going to survive until her children go to bed. lila is particularly naughty these days(if you can even believe that). i believe these pictures speak for themselves.
this happened when i was putting make-up on.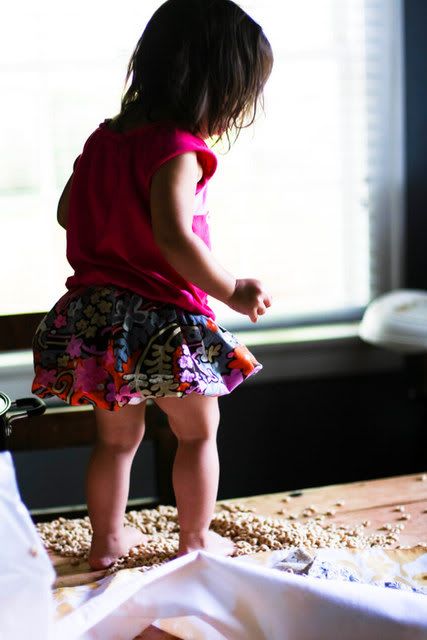 order of events: monkey-child climed on the dinner table. monkey-child dumped entire box of cheerios on table. monkey-child stomped like king kong on all of them, as to ensure crumbs would get into every orifice of dining room.
i know, lila looks like an orphan-child that dressed herself and never receives haircuts. and this exactly the truth. at least i'm honest. she is very VERY into picking out her outfits in the morning...often layering many different(ridiculous) items on one another. today, she wanted the skirt. she wants to sleep in the skirt. swim in the skirt. play in the skirt. take baths in the skirt.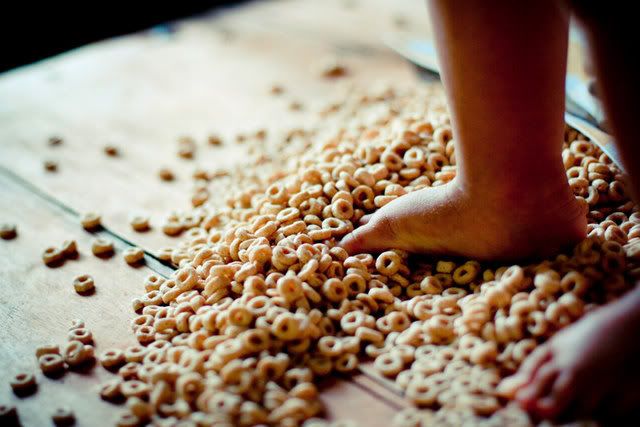 and so after the cheerio mess was cleaned up...by the dog, i brought her upstairs so i could keep a better eye on her. mind you, the bathroom is right next to our bedroom. after seriously, ONE minute passed and i heard multiple giggles, i went to see what she was doing.
oh lookey there, you pulled all of daddy's LARGE tie collection off the tie hanger.
honestly, lila. you make your mother want to hide in the blankets until the day is over. but you would find me. you always do. like a trained sniper with a built in mommy-sensor.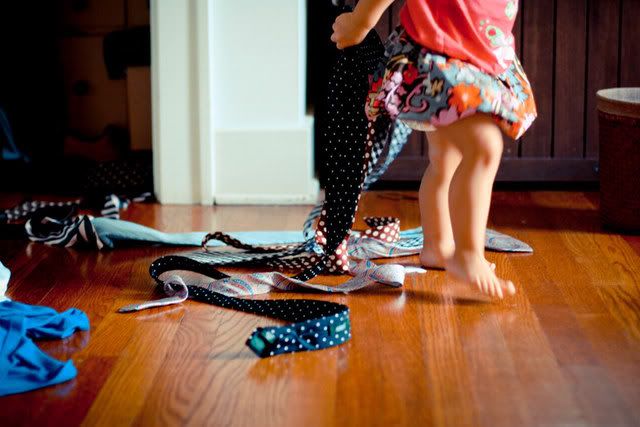 i hear that one of these days, it'll be the opposite. i'll be wanting to hang with you and you'll want nothing to do with me. well hear this, little lady...payback is a...
hmmm, can't say that....
payback is coming your way! i can see the future now...
in high school, i'm gonna be your personal chauffeur, whether you like it or not. i'm going to take you to the movies and pull right up to the front and then be there when it's over...promptly. and when you yell at me for pulling up to the wrong entrance...i'm going to feel bad, probably. how dare i do something so stupid!
in your face, sweet platypus!
oh, you think that's bad? i'm going to spend absurd amounts on your prom dress, like it's a mini wedding. that'll teach you a thing or two.
when you go to college, i'm going to be in your dorm room organizing your stuff and making your bed when you go to your classes, mkay? and i'm gonna buy you one of those little refrigerators for your room to make your life more comfortable. that'll show you! i will also say
YES
when you need some money for "gas in your car" even though you are really just going out to eat with your friends.
booya, lila! take that...
oh, you want to live at home for a couple months so you can figure out what you want to do with your degree that i spent thousands of dollars on(even though i thought i'd be an empty-nester traveling the world at this point?). ABSOLUTELY! stay for years...i have nothing better to do, except cook meals for you and do your laundry.
yep. payback is sweet, little monkey child. so sweet.