memorial day was fun...
layne preferred to stay in the kiddie pool, while lila preferred the big pool. hmm, we call layne "the sherriff" around these parts, as he prefers to err on the side of safety. whereas lila is super adventurous and enjoys danger as a part of her daily regimen.
please enjoy a picture of me(actually the reflection of me) in my ruffle-ee swimsuit from target. i love seeing old pics of my mom in swimsuits. she has some good 80's ones that make me laugh. i think my kids will like seeing this in the future.
really mom, ruffles?
listen kids, mommy wears ruffles to hide bulges. she feels bloated all the time because she's pregnant. only 5 and 1/2 weeks. but still, i feel safe hiding behind all these ruffles.
moving on... when grandpa and grandma are around, it's a free-for-all. hence, a sunscreen festival on grandpa's face.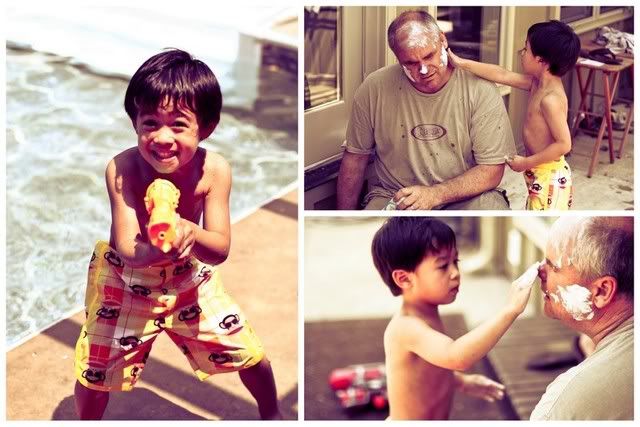 and i didn't take a picture of my mom coddling both children, giving them absurd amounts of sugaree treats, and checking on them constantly at nap time. she even said,
going up and down the stairs is good exercise
to defend herself. what?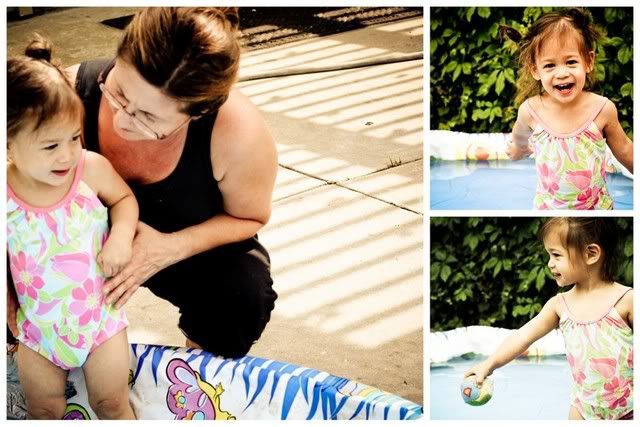 speaking of grandpa, what is with this outfit? you look like a crazy kidnapper or something. fyi, this outfit would get the cops called at a public pool ASAP.luckily this is your back yard so you make the dress code. but really...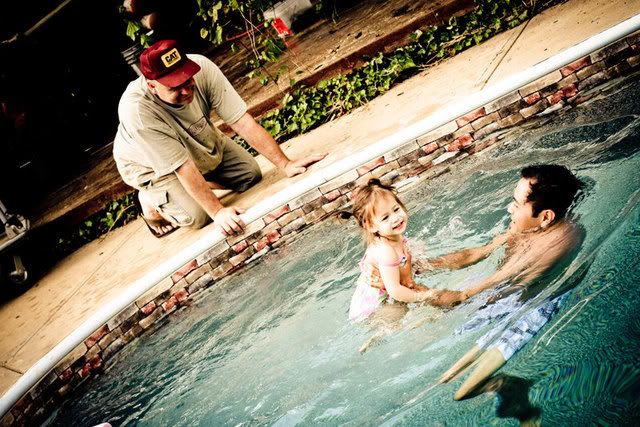 ok so, side note: i usually get super sick from week 6 to 13. if i fall off the blogging planet, it's because i'm laying on the couch. throwing up in a bucket. letting the kids watch PBS.
all. day. long.