welp, courtesy of
csnstores.com
, it's time for a giveaway! they have everything from
cribs
to cookware over at their site, so check-check-check it out. if you leave a comment on this blog, you shall enter to win this glorious stainless steel waffle maker. you can only enter your name once...however, if you send a friend to this here blog and they comment, you will be entered another time(make sure they mention your name)! fun stuff...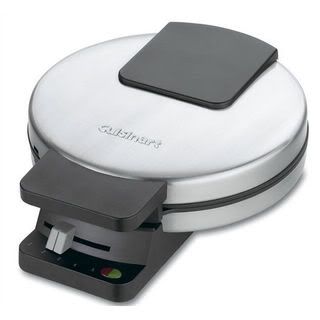 ok so speaking of kitchen-ee things, i bought these jelly jars the other day at the grocery store to use as drinking glasses. for some reason, i have always carried a certain disdain for the glasses i picked out on our wedding registry.
they
are simple and will never go out of style, but i don't know... they lack personality or something. i take that back, they lack
my
personality. and they show every water spot known to man. i think my new jelly jar glasses just say,
sit down and have some sweet tea
. or maybe guests will just wonder why they are drinking out of a jar. i don't care though. they are adorable and they are cheap-ola. 12 jars for 10 dolla-dolla bills. i am still thinking of something crafty to do with all the lids they came with. waste not, my friends.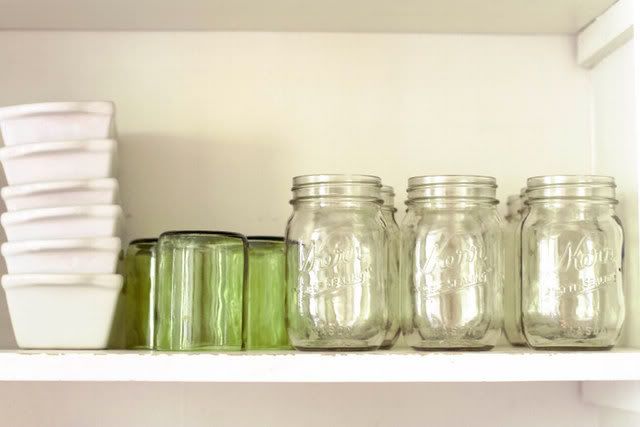 and i just finished this little magnet-chalkboard wall in the kitchen the other day. you know i have an obsession with all things chalkboard...so why not have an entire wall of this goodness? exactly. writing a menu on that wall totally makes me feel like i'm running a cafe. i guess, in a way, that's kind of what mom's do. i have to say, the magnet paint is expensive and you have to paint, oh, 8 coats of it to hold a magnet. then you have to put a coat of chalkboard paint on top of all those coats. it's basically a 2 or 3 day operation. but just like having babies, you surprisingly forget about the labor once you see the end product. why yes...yes i did just make that connection.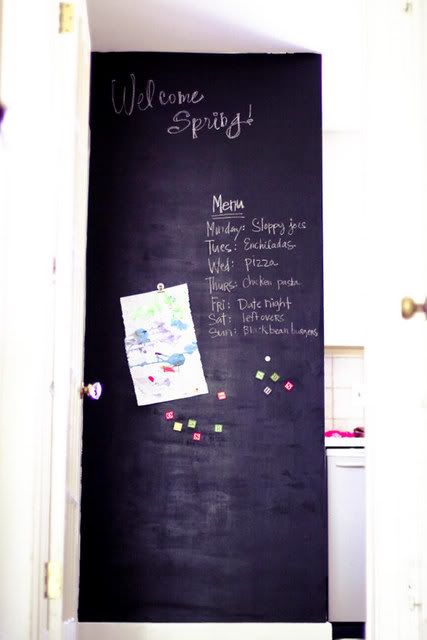 anyway, our kitchen still needs painting (uhhhmmm, husband!) to complete it's look, but 'tis the next room on the list. look out for before and after pics coming soon.
alright, leave a comment(and your email) for a chance at winning the waffle maker...just imagine breakfast in bed on saturday morning. sighhhhhhhhhh...is this a folger's commercial?